Offre et demande d'activité physique et sportive au sein des structures sociales, médico-sociales et médicales
Today, physical activity and sport (APS) is identified as a real determinant of public health. This has the result of increasing the influence of the APS on the territory : anchorage in public policy, increasing its practical, involvement of actor of all sectors... In parallel, various factors are only digging the current inequalities in access to the practice of physical and sporting activities. The lack of knowledge of offers of APS is one of its factors. To overcome this situation in Lorraine plan: "Physical and Sporting Activities on the purposes of health". It is essential to identify its offerings which born today, independently of each other. The CISS Lorraine, with the help of different territorial actors, wished to make a territorial diagnosis, to identify, to characterize and to analyze offers and the concerned territory. At first, this national project will be experienced in two areas with very different characteristic : The "Communauté de Commune of Grand-Nancy"(54) and "the Pays Coeur de Lorraine" (55).
Aujourd'hui, l'activité physique et sportive (APS) est identifiée comme un véritable déterminant de santé public. Cela a pour conséquence d'accroitre l'influence de l'APS sur le territoire: ancrage dans les politiques publiques, augmentation de sa pratique, implication d'acteur de tous secteurs... En parallèle, différents facteurs ne font que creuser les actuelles inégalités d'accès à la pratique d'activités physiques et sportives. La méconnaissance de l'offre d'APS est notamment l'un de ses facteurs. Afin de palier à ce constat fait dans le cadre du plan lorrain « Activités Physiques et Sportives à des fins de santé », il est indispensable d'identifier ses offres qui naissent aujourd'hui indépendamment les unes des autres. Le CISS Lorraine, à l'aide de différents acteurs territoriaux, à donc souhaité réaliser un diagnostic territorial, afin d'identifier, caractériser, et analyser les offres ainsi que le territoire concerné. Dans un premier temps, ce projet à visée régional se verra expérimenté au sein de deux zones aux caractéristiques bien différentes : la Communauté de Commune du Grand- Nancy (54) et le Pays Coeur de Lorraine (55).
Fichier principal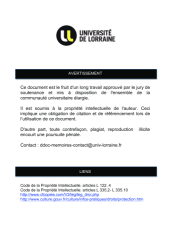 BUS_M_2014_MANZO_JULIE.pdf (12.94 Mo)
Télécharger le fichier
Origin : Files produced by the author(s)