Dynamique des populations de robinier faux-acacia (Robinia pseudoacacia) en régions Nord-Pas-de-Calais et Picardie
Black locust, Robinia pseudoacacia, has undeniable qualities, particularly in silviculture: hard wood, rapid growth, etc. Professionals wish to develop an industry of timber. Nevertheless, naturalists' communities want more information about its potential invasiveness. The purpose of this study is to better understand what situations are susceptible to invasions. In this way, we could distinguish management schemes in Nord-Pas-de-Calais and Picardie. About the methodology, we selected sites, hosting black locust, representative sample of the area. At each site, a transect was placing, half in population of black locust and half in an adjacent stand. This is to assess regeneration and dispersion of black locust. In addition, dendrology and pedology data were collected in each stand. This study allows us to say that black locust is not invasive inside forestry in Nord- Pas-de-Calais and Picardie in 2014. Thus, forestry of this species could be considered, but would have to take into account all the uncertainties existing about the population dynamics of black locust.
Le robinier faux-acacia, Robinia pseudoacacia, présente des qualités indéniables, d'un point de sylvicole : bois de classe 4, croissance rapide, etc. Les professionnels souhaitent ainsi développer une filière de bois d'oeuvre de cet arbre. Néanmoins, les communautés naturalistes freinent cet élan à cause d'une inquiétude face à son potentiel caractère invasif. Le but de cette étude est de mieux cerner quelles sont les situations à risque d'invasion pour créer des schémas de gestion différenciées en Nord-Pas-de-Calais et Picardie. Pour cela, des sites, hébergeant du robinier, représentatifs de l'inter-région ont été sélectionnés. Sur chaque site, un transect a été disposé, pour moitié dans le peuplement de robinier et pour moitié dans un peuplement adjacent. Ceci pour évaluer la régénération et la dispersion du robinier. De plus, des relevés de stations forestières ont été menés dans chaque peuplement, pour avoir des données de dendrologie et pédologie. Cette étude nous permet d'affirmer que le robinier faux-acacia n'est pas invasif en situation intra-forestière en Nord-Pas-de-Calais et Picardie, en 2014. Ainsi, la sylviculture de cette essence pourrait être envisagée, mais devrait alors prendre en compte toutes les incertitudes qui existent face à la dynamique de ses populations.
Fichier principal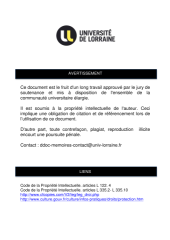 BUS_M_2014_CHAMBRAS_MATHILDE.pdf (2.1 Mo)
Télécharger le fichier
Origin : Files produced by the author(s)