Analyse détaillée du système d'information de la société pour amélioration
To anticipate an increase in its activity, the company ISARTEC decided to implement a DataBase Management System (DBMS), most advanced and efficient architecture that is currently in place. Sometime later, the ISARTEC information system was born, offering new opportunities for access and management of data generated by business activities, but also those necessary for its operation. However, after several years of intensive use and therefore an increase of activity, even intranet eventually show its limits, either physical or software. In order to improve the system and to offer him a new life, I was recruited as part of my internship graduation to study architecture in place and make the necessary improvements and corrections to its fitness.
Pour anticiper une augmentation de son activité, l'entreprise ISARTEC a décidé de mettre en place un système de gestion de base de données (SGBD) plus évolué et performant que l'architecture actuellement en place. Quelque temps plus tard, le système d'information ISARTEC appelé « Intranet ISARTEC » voyait le jour, offrant ainsi de nouvelles possibilités pour l'accès et la gestion des données générées par les activités de l'entreprise, mais aussi concernant celles nécessaires à son fonctionnement. Cependant, après plusieurs années d'utilisation intensive et un accroissement d'activité conséquent, ce même intranet a fini par montrer ses limites, que ce soit physique ou logicielle. Dans le but d'améliorer ce système et de lui offrir une nouvelle jeunesse, j'ai été recruté dans le cadre de mon stage de fin d'études pour étudier l'architecture en place et y apporter les améliorations et les corrections nécessaires à sa remise en forme.
Fichier principal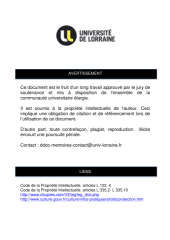 BUS_M_2014_BARACAND_ADRIEN.pdf (6.16 Mo)
Télécharger le fichier
Origin : Files produced by the author(s)