Étude descriptive du ressenti des patientes ayant vécu un transfert in utero au sein du réseau périnatal lorrain vers la Maternité du CHRU de Nancy de février à mai 2015
The organization in networks of care becomes compulsory further to the plan of perinatal period of 2005-2007.Even if a TIU corresponds to a success on the medical plan for the nursing, the emotional aspect of the patients must be also considered. Indeed, a rate of stress raised at a pregnant woman would increase the rate of complications during its pregnancy and the evaluation of the satisfaction of the population of a health system is a part of the quality approach. It thus seems important to study the felt of the women having lived a TIU. The objectives of this study were to estimate the level of satisfaction of the mothers-to-be towards their TIU in type 3, and to analyze their knowledge of the organization of care in network, in particular the RPL. A descriptive analysis was realized further to the collection of 28 questionnaires with women hospitalized to a TIU in the prenatal sector of the Maternity hospital of Nancy during a semi-directive interview between February and May, 2015. The patients (20/28) were globally satisfied by their TIU. It seemed very important for them to have an empathic and available medical team. On the other hand only 2 women on 28 knew the RPL.The obtained results are encouraging but the weak staff of the study does not allow to generalize them. However to improve the knowledge of the patients on the networks of the care and the RPL in particular, perspectives were proposed.
L'organisation en réseaux de soin devient obligatoire suite au plan de périnatalité de 2005-2007. Même si un TIU correspond à une réussite sur le plan médical pour les soignants, l'aspect émotionnel des patientes doit également être pris en considération. En effet, un taux de stress élevé chez une femme enceinte augmenterait significativement le taux de complications survenues lors de sa grossesse et l'évaluation de la satisfaction de la population d'un système de santé fait partie intégrante de la démarche qualité. Il semble donc important d'étudier le ressenti des femmes ayant vécu un TIU. Les objectifs de cette étude étaient d'évaluer le niveau de satisfaction des futures mères vis-à-vis de leur TIU en type 3, et d'analyser leur connaissance de l'organisation de soins en réseau, notamment du RPL. Une analyse descriptive a été réalisée suite au recueil de 28 questionnaires auprès de femmes hospitalisées suite à un TIU dans le secteur anténatal de la Maternité du CHRU de Nancy lors d'un entretien semi-directif entre février et mai 2015. Les patientes (20/28) étaient globalement satisfaites de leur TIU. Il semblait très important pour elles d'avoir une équipe médicale empathique et disponible. En revanche seulement 2 femmes sur 28 connaissaient le RPL. Les résultats obtenus sont encourageants mais le faible effectif de l'étude ne permet pas de les généraliser. Toutefois pour améliorer la connaissance des patientes sur les réseaux des soins et du RPL en particulier, des perspectives ont été proposées.
Fichier principal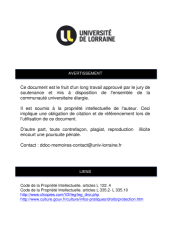 BUMED_MESF_2015_PASQUALINI_VALERIANE.pdf (935.54 Ko)
Télécharger le fichier
Origin : Files produced by the author(s)