Digital traces and scientists' commitment: contribution to the ethics of communication in the context of public controversies
Huellas digitales y implicación del investigador: contribución a una ética de la comunicación en contexto de controversia
Traces numériques et engagement du chercheur : contribution à une éthique de la communication en régime de controverse
This paper is a case study analysis of the social discourses about a thesis focused on the story of the French nuclear waste management disposal reliability. It sheds light several logics of mediation of controversial scientific knowledge committing the scientist. We argue that the scientists can't avoid thinking about their digital traces and the traces they produce concerning other people during their fieldwork. At the light of our personal experiences, we contribute to the ethics of science communication. We focus on the legitimacy of scientific discourses in controversial contexts and on the intentionality of digital traces. In this perspective, ICS are invited to contribute to participate to the professional reflexivity.
Este artículo trata de la circulación social de una tesis sobre la historia de la administración de la prueba de seguridad de un controvertido proyecto de almacenamiento de residuos radiactivos. El análisis semiótico de discursos y prácticas permite identificar lógicas de mediación científica que involucran al investigador. Por lo tanto, este último no puede evitar pensar en sus huellas digitales y en las que produce sobre otros actores durante la investigación. Desde la postura de investigador adoptada en nuestro propio trabajo, nuestra investigación alimenta una ética de la comunicación de la ciencia en contexto de controversia. Nuestro artículo se focaliza en la legitimidad de los discursos científicos y en la intencionalidad de las huellas digitales. Contribuye a desarrollar espacios de reflexividad dentro de las ciencias de la información y la comunicación.
Cet article porte sur la circulation sociale d'une thèse consacrée à l'histoire de l'administration de la preuve de sûreté d'un projet controversé de stockage de déchets radioactifs. L'analyse sémiotique des discours et des pratiques de médiation de la thèse permet d'en dégager des logiques, qui engagent le chercheur. Ce dernier ne peut donc faire l'économie d'une réflexion sur ses traces numériques et sur celles qu'il produit au sujet d'autres acteurs durant l'enquête. A partir des postures de chercheur adoptées dans nos propres travaux, notre recherche nourrit une éthique située de la communication des sciences en régime de controverse qui se focalise sur la légitimité des discours scientifiques et sur l'intentionnalité des traces numériques. Notre recherche contribue à développer des espaces de réflexivité au sein des sciences de l'information et de la communication (SIC).
Fichier principal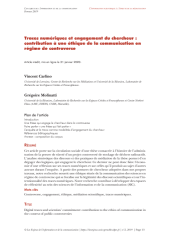 2019d-01-Carlino-Molinatti.pdf (165.87 Ko)
Télécharger le fichier
Origin : Publisher files allowed on an open archive