Thématisati-(sation)/rhémati-(sation): quelle terminologie pour quelle approche théorique?
For from questionning the core value of BE + -ING in H Adamczewski's theory, this paper aims at putting the interpretation of this meta-operateur in perspective. At a local level, that of the predication, BE +-ING undoubtedly has an anaphoric value. If we consider naturally occurring utterances, BE + -ING appers in unit promoting new information. Should we consider this as contradictory ? We thereby confront different levels of language analyses and put forward the necessity of reconciling analyses both at a local and predicative level and on a wider scale, that of utterances in a context of online processing.
Loin de remettre en cause la valeur invariante de l'opérateur BE + -ING centrale à la théorique d'H. Admaczewski, notre propos et de proposer une mise en perspective de cet opérateur méta-opérationnel. Au niveau du noeud prédicatif, la valeur anaphorique de BE + -ING est ancré dans les unités de discours qui apportent une information nouvelle. Nous confrontons ainsi différents niveau d'analyse de la langue en plaidant pour une approche plus globale, réconciliant l'analyse au niveau local et prédicationnel d'une part avec l'analyse au niveau global du paragraphe oral.
Fichier principal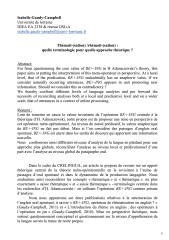 thematisation-rhématisation.pdf (20.59 Mo)
Télécharger le fichier
Origin : Explicit agreement for this submission