Observation gérontologique territorialisée : communauté d'Agglomération du Val de Fensch
La méthodologie qui a permis l'élaboration du diagnostic territorial faisant part des observations gérontologiques sur le territoire du Val de Fensch s'organise autour de deux axes : d'une part, un état des lieux du paysage urbain et des formes du bâti qui le composent et d'autre part, l'agrégation de données sociodémographiques relatives aux catégories de populations susceptibles d'accueillir le public réputé invisible. Ces deux axes de travail ont respecté le fil rouge de l'analyse multiscalaire, fondamental à la recherche en géographie et qui a permis l'élaboration d'une grille de lecture précise, selon trois niveaux d'agrégation des données utilisés par l'INSEE : communal, infra-communal (IRIS) et carroyage (carreau de 200x200m). Combiner divers données sociodémographiques et socio-économiques à des échelles de grande précision en prenant en compte les différents types de supports paysagers observables dans les communes du Val de Fensch a permis, outre une localisation précise du public ciblé par l'étude et une pratique du démarchage plus aisée pour l'équipe de sociologues, l'élaboration d'hypothèses quant à l'environnement urbain immédiat des personnes âgées ainsi que leur niveau de vie. Globalement, est observé dans le Val de Fensch, une tendance des personnes âgées de plus de 65 ans à résider au sein d'un habitat pavillonnaire mitoyen construit lors des trente glorieuses sous la pression des besoins de main d'œuvre de l'industrie sidérurgique. Cet habitat, localisé en périphérie des communes s'oppose à des bourgs-centre denses, plus pauvres mais concentrant l'essentiel des services publics et professionnels de santé. Enfin, les carreaux concentrant la plus forte prévalence de personnes âgées sont aussi ceux dont le taux de ménages ayant un bas revenus est le plus faible : ils semblent que le support des retraites issues, entre autre, des activités industrielles passées, constitue un rempart contre la précarité à la faveur des plus âgés.
The methodology which allowed the elaboration of the territorial diagnosis for gerontological observations on the territory of the Fensch Valley gets organized around two axes: a current situation of the urban landscape on the one hand and the aggregation of sociodemographic data relative to the categories of populations likely to welcome the public of the invisible on the other hand. These two axes have respected the fundamental multiscalar method of every analysis in geography which allowed the elaboration of a precise key for reading, according to three levels of aggregation of data used by the french National Institute for Statistics and Economic studies (INSEE). The combinaison of sociodemographic and socioeconomic data with the various types of urban supports in the municipalities of the Fensch Valley allowed, besides a precise location of the public targeted by the study and an easier practice of the doorstep searching for the sociologists, the elaboration of hypotheses : Globally, are observed a trend of people over 65 years old to be living within an adjoining suburban housing environment built during post-war economic booms under the pressure of the needs for workforce of the steel industry. This housing environment, located in periphery of the municipalities opposes in village-center densely populated but concentrating the main part of public services and healthcare professionals. Eventually, the places concentrating the strongest prevalence of elderly are also the ones whose rate of households having low wages is the weakest : this seems to prove that the stemming pensions partly coming from the past industrial activities constitutes a bulwark against the precariousness for elderly people.
Fichier principal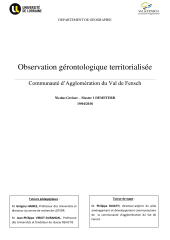 TRAVAIL FINAL REIACTIS Nicolas GREINER format RAPPORT DE STAGE.pdf (21.41 Mo)
Télécharger le fichier
Origin : Files produced by the author(s)