Representations and ritualisations of violence: what scientific position can be taken with regard to "extreme" music?
Représentations et ritualisations de la violence : quelle position scientifique peut-on avoir face aux musiques « extrêmes » ?
The analysis of extreme music expresses emotions that could be blamed on them: an accentuated violence, in an attitude of delectation and exhibitionism. The position towards these musical trends must be based on both "analytical distance" and "empathy". It must resituate these infatuations in their minority dimension. This is not "youthful" music, but music that is listened to by a relative proportion of adolescents and post-adolescents. Rather than focusing on the actual impact of these styles, an attempt has been made to analyse the meaning of certain preached philosophies (nihilism, Satanism, neo-religion, corporatism...) and the denials to which they give rise on the part of the followers of these movements. It is as if the transgressive force of the styles they like is so intense that it is self-sufficient, and its verbal or ideological defence is difficult to enunciate.
L'analyse des musiques extrême expriment des émotions qui pourraient leur être reprochées : une violence accentuée, dans une attitude de délectation et d'exhibitionnisme. La position face à ces courant musicaux doit se fonder à la fois sur la « distance analytique » et l'« empathie ». Elle doit resituer ces engouements dans leur dimension minoritaire. Il ne s'agit pas d'une musique « jeune » mais de courants écoutés par une proportion relative d'adolescents et postadolescents. Plutôt que de se centrer sur l'impact effectif de ces styles, on a tenté d'analyser le sens de certaines philosophies prônées (nihilismes, satanismes, néoreligions, corporéismes…) et des dénégations auxquelles elles donnent lieu de la part des adeptes de ces courants. Tout se passe comme si la force transgressive des styles qu'ils aiment étaient si intense qu'elle se suffit à elle-même et que sa défense verbale ou idéologique était difficile à énoncer.
Fichier principal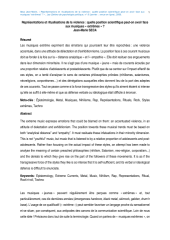 Art 2006 CPP Musiques extrême et violences.pdf (63.65 Ko)
Télécharger le fichier
Origin : Files produced by the author(s)