Analyser le rapport entre le joueur et l'espace de jeu par la cartographie Etude de l'interface de carte, ses attributs, et leurs rapports dans la formalisation de l'éthos ludique
For the ten last years, the spatial turn in game studies has been focused on the analysis of the game's space in which the player evolves. Nevertheless, cartography is a theme that is frequently forgotten in such researchs, while it allows another way of thinking the relation to the game' space, creating new ludics, narratives, and cognitives links. This research explores how cartography may have an influence on ludic attitude, especially on the player's ludic ethos, by studying the single player open world games from the series The Elder Scrolls. Through the establishment of an analysis grid using criterias from cartography, ludism, and semantism, this work brings insights on the way the map interface, the tools it gives to the player, and its means of picturing the game's space alter how the player apprehend the game. This research thus explores the different ways cartography can influence players and suggest clues for future searchers.
Depuis une dizaine d'années, le tournant spatial des game studies s'attelle à l'analyse de l'espace de jeu dans lequel le joueur évolue. Néanmoins, la cartographie est un thème fréquemment oublié dans ces recherches, alors qu'il permet de penser le rapport à l'espace, en créant de nouveaux liens ludiques, narratifs, et cognitifs. Ce travail de recherche explore la manière dont la cartographie peut avoir une influence sur l'attitude ludique, et notamment l'éthos ludique du joueur, en étudiant les jeux à monde ouvert monojoueur de la licence The Elder Scrolls. Au travers la constitution d'une grille d'analyse qui mélange des critères cartographiques, ludiques, et sémantiques, ce mémoire amène des réflexions sur la manière dont l'interface de carte, les outils qu'elle propose au joueur, et ses systèmes de représentations de l'espace modifient la manière dont le joueur appréhende le jeu. Ce travail de recherche explore ainsi les différentes façons dont la cartographie peut influencer le joueur, et propose de nombreuses pistes d'études de la cartographie pour les futurs chercheurs.
Fichier principal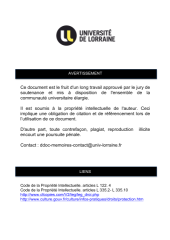 BUL_M_2020_FRICHE_LUCAS.pdf (6.15 Mo)
Télécharger le fichier
Grille_analyse_interfaces_carte_FRICHE.xlsx (20.04 Ko)
Télécharger le fichier
Origin : Files produced by the author(s)