De la conception à la formalisation d'un dispositif historique le Transmédia comme outil de médiation historique : le cas « les grandes grandes vacances »
Transmedia is now part of the strategy of all major popular culture franchises. Nevertheless, when applied to transmission and learning, transmedia is a tool that is not frequently used. Yet it allows to reach a large audience, and potentially different according to the media. This work of study and research goes deeper than the previously formalized studies and focuses on a franchise composed of an animated series and a serious game. This corpus has been conceived on a historical basis, and that is what is at stake in this dissertation, the transmission and mediation of historical facts through different channels. It is the figure of the enemy and its representation that are at the centre of the questions, and the fact that the device was designed primarily for children.
Le transmédia fait aujourd'hui parti de la stratégie de toutes les grandes franchises de la culture populaire. Néanmoins, appliqué à la transmission et à l'apprentissage, le transmédia est un outil qui n'est pas fréquemment utilisé. Il permet pourtant de toucher un public large, et potentiellement différent en fonction des supports. Ce travail d'étude et de recherche approfondie les études précédemment formalisées, et se concentre sur une franchise composée d'une série animée et d'un serious game. Ce corpus a été conçu sur une base historique et c'est tout l'enjeu de ce mémoire, la transmission et la médiation de faits historiques par le biais de différents canaux. C'est la figure de l'ennemi et sa représentation qui sont au centre des interrogations, et le fait que le dispositif a été conçu en premier lieu pour les enfants.
Fichier principal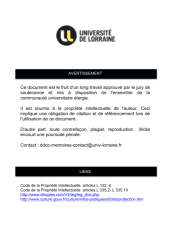 BUL_M_2020_KRYS_ANTOINE.pdf (3.77 Mo)
Télécharger le fichier
Origin : Files produced by the author(s)