Caractérisation de mutants de Saccharomyces cerevisiae résistants au lanthane et à l'ytterbium obtenus par ingénierie évolutive
The current evolution of technologies and population have led to an increasing use of lanthanides such as lanthanum and ytterbium, a light and a heavy rare earth element (REE), respectively. The interactions and mechanisms involved in REE tolerance are poorly studied in eukaryotic organisms. Saccharomyces cerevisiae was used in an evolutionary engineering experiment that consisted in a continuous and increasing exposition to La or Yb to improve its resistance phenotype. This strategy was successful and led to different mutants several dozen times more resistant to La or Yb compared to the wild-type strain. These mutants also acquired cross-resistance to other metals. The genome of the most resistant mutants was sequenced and allowed the identification of different mutations with the corresponding mutated proteins. These proteins belong to functional groups such as calcium transport, protein transport from the endoplasmic reticulum to the plasma membrane, or the endocytosis. In conclusion, this evolutionary engineering approach brings the first data on REE tolerance mechanisms in eukaryotic cells. Several complementary studies have to be done to improved our comprehension and define precisely the identified mechanisms towards REE.
L'évolution croissante des technologies et de la population a engendré une utilisation toujours plus importante de métaux tels que le lanthane, une terre rare légère et l'ytterbium, une terre rare lourde. Les mécanismes impliqués dans la tolérance à ces métaux chez les organismes eucaryotes sont très peu étudiés. Ainsi, Saccharomyces cerevisiae a été utilisé à la base d'une expérience d'ingénierie évolutive, stratégie consistant en une exposition prolongée de cette levure à des concentrations croissantes à ces 2 métaux pour générer des résistants et identifier les mécanismes de résistance liés. Le succès de cette stratégie s'est traduit par l'obtention de mutants très résistants aux 2 métaux, avec des niveaux de résistance plusieurs dizaines de fois supérieurs à celui de la souche sauvage, ainsi que l'observation de résistances croisées à d'autres métaux. Enfin le séquençage des génomes des clones les plus résistants a permis d'identifier les mutations issues de cette stratégie. Ces protéines tronquées sont liées au transport du calcium, au transfert de protéines du réticulum à la membrane plasmique, ou encore à l'endocytose. Ces mécanismes de résistance sous-jacents représentent les premières données concernant la résistance de cellules eucaryotes aux terres rares et seront initiateurs pour des expériences complémentaires.
Fichier principal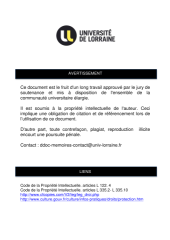 BUS_M_2018_ORY_JORDAN.pdf (4.67 Mo)
Télécharger le fichier
Origin : Files produced by the author(s)