La sur-urbanisation de la ville de Casablanca : étude de l'évolution spatio-temporelle de la ville de Casablanca entre 1987 et 2017
This research paper focuses on the study of the spatio-temporal evolution of the urban area of Casablanca (Morocco) over the last three decades. After a historical retrospective that allowed us to understand the past of this city in order to grasp the drivers of its evolution, we used high spectral resolution satellite images to highlight the mutations of its urban area and quantify the landscape modifications. For this purpose, three multi-spectral Landsat images taken respectively in 1987, 2003 and 2017 were processed and analyzed through a supervised thematic classification in order to map the evolution of the land use. The results indicate that during the study period, Casablanca underwent a considerable densification, coupled with a clear extension towards its periphery to the detriment of the surrounding agricultural areas, as a consequence of the post-independence population growth. This resulted in the emergence of new built-up areas consisting of slums and social housing in the eastern part, and new peripheral urban centers such as Bouskoura, Naouceur and Deroua in the south.
Ce mémoire de recherche s'attèle à l'étude de l'évolution spatio-temporelle de la zone urbaine de Casablanca (Maroc) au cours des trois dernières décennies. Après une rétrospective historique qui nous a permis de comprendre le passé de cette ville pour en saisir les moteurs de son évolution, nous avons utilisé les images satellites à haute résolution spectrale afin de mettre en évidence les mutations de son tissu urbain et quantifier les modifications paysagères. A cette fin, trois images Landsat multi-spectrales prises respectivement en 1987, en 2003 et en 2017 ont été traitées et analysées grâce à une classification thématique supervisée en vue de cartographier l'évolution de l'occupation du sol. Les résultats obtenus indiquent qu'au cours de la période d'étude, Casablanca a subi une densification considérable, couplée à une nette extension vers sa périphérie au détriment des zones agricoles environnantes, conséquences de la poussée démographique post-indépendance. Cela s'est traduit par l'apparition de nouveaux ensembles bâtis composés de bidonvilles et de logement sociaux dans la partie est, et de nouveaux centres urbains périphériques tels ceux de Bouskoura, Naouceur et Deroua au sud.
Fichier principal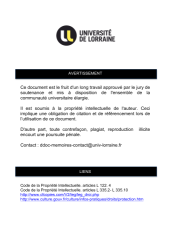 BUL_M_2020_HASSANI_NASSIMA.pdf (4.63 Mo)
Télécharger le fichier
Origin : Files produced by the author(s)