La question de l'interspécificité dans l'art corporel féministe.Vers une esthétique femelliste?
This article focuses on the crossings of the antispecist and the feminist theories within the artistic practice which approach the issue of interspecificity. This work examines, more exactly, the aesthetic uses of the animal in feminist visual art creation and identifies three problems within these artistic experiences : 1. the question of the practices of the body and the nudity in this performance art which invite to think of the report(relationship) between feminism and the antispécisme (Kira O'Reilly and Miru Kim). 2. The presence of an anti-porn discourse within antispecist feminism that criticizes the analogy between the industry of animal meat and the sexual industry which exploit the female bodies, while feminist artists use this allegory of the animalization of women to create a body of opposition to the regime of patriarchal power and anthropocentrism (Rose English, Kira O'Reilly). 3. The artistic research on hybridization that uses technology to mix species and invent a post-human body (Marion Laval-Jeantet). We postulate that these various modes of political identification with animals among feminist artists, involving new performances with non-human species, contribute to the construction of a femalist aesthetics.
Cet article s'intéresse aux croisements entre les théories féministes et antispécistes au sein des pratiques artistiques qui abordent la question de l'interspécificité. Notre travail examine plus précisément les usages esthétiques de l'animal dans la création plasticienne féministe et relève trois problématiques au sein de ces expériences artistiques : 1. la question des pratiques du corps et de la nudité dans des performances qui invitent à penser le rapport entre féminisme et l'antispécisme (Kira O'Reilly et Miru Kim). 2. La présence d'un discours anti-porno au sein du féminisme antispéciste qui critiquent l'analogie entre l'industrie de la viande animale et l'industrie sexuelle qui exploite le corps des femmes, alors que des artistes féministes utilisent précisément l'allégorie de l'animalisation des femmes pour créer un corps d'opposition au régime du pouvoir patriarcal et à l'anthropocentrisme (Rose English, Kira O'Reilly). 3. Les recherches artistiques menées autour de l'hybridation qui utilisent la technologie pour mélanger les espèces et inventer un corps post-humain (Marion Laval-Jeantet). Nous postulons que ces divers modes d'identification politique aux animaux chez les artistes féministes, impliquant de nouvelles performances en compagnie d'espèces non-humaines, contribuent à la construction d'une esthétique femelliste.
Fichier principal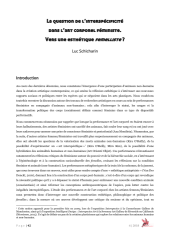 CSS6-5-Schicharin-Art-corporel-féministe.pdf (844.72 Ko)
Télécharger le fichier
Origin : Publisher files allowed on an open archive