The implicit in Sarasvathy's work: Highlighting a communication theory in entrepreneurship
We commonly consider the contribution of the effectuation developed by Sarasvathy as an alternative perspective to the causation one. In this paper, the author defends the idea that, even if these two logics were built on different pillars, the causation and the effectuation are eventually two sides of a coin. To understand the structuring of these two logics, the author mobilize Palo Alto's theory of communication, which is extended in order to include entrepreneurship in another paradigm: the paradigm of entrepreneurial action. The paper ends with a discussion of the interest of the latter within entrepreneurship research.
Il est commun, en entrepreneuriat, de considérer que l'apport de la logique effecuale développée à partir des travaux de Sarasvathy se situe avant tout dans une perspective d'alternative à la logique causale. Dans cet article, nous avançons l'idée selon laquelle, même si ces deux logiques se sont construites sur des piliers différents, la logique de causation et la logique effectuale ne sont finalement que les deux faces d'une même pièce. Pour comprendre la structuration de ces deux logiques, nous mobilisons la théorie de la communication de Palo Alto afin d'inscrire l'entrepreneuriat dans un autre paradigm : le paradigme de l'agir entrepreneurial. L'article se termine par une discussion portant sur l'intérêt de ce nouveau paradigme dans le cadre de la recherche en entrepreneuriat.
Fichier principal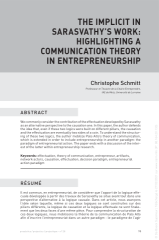 PROJ_028_0095.pdf (173.05 Ko)
Télécharger le fichier
Origin : Publication funded by an institution