À propos de Koch & Oesterreicher. Une distance anthropologique
A close examination of the now widely accepted model of communication proposed not long ago by P. Koch and W. Oesterreicher leads us, in our analysis, to contest to some extent a form of anthropological oversimplification. If it is possible to affirm, like Benveniste, that man is embodied in language as a phenomenon and in concrete languages, one can also say, from the point of view of Merleau-Ponty, that language and languages are intrinsic to man, and inseparable from him. We propose a criticism of what appears to be a mechanical formalism in the conception of verbal communication which does not take sufficiently into account the historical and cultural dimensions of language use; we will then —once again from the point of view a linguistic anthropology of the symbolic— examine the question of proximity and distance in the diversity of semio-linguistic exchanges.
Une attention critique au modèle communicationnel désormais classique proposé naguère par P. Koch et W. Oesterreicher conduit en partie notre analyse à s'inscrire en faux contre une forme de réductionnisme anthropologique. Non seulement on peut dire avec Benveniste que l'homme est dans le langage et dans la langue mais non moins avec Merleau-Ponty que le langage et la langue sont dans l'homme. Nous proposons un point de vue critique sur les conceptions ingéniériques de la communication verbale et sur la faible prise en compte des usages historiques et culturels des praxis langagières pour nous intéresser enfin – toujours du point de vue d'une anthropologie linguistique du symbolique – aux problèmes de la proximité et de la distance dans la diversité des échanges sémio-linguistiques.
Fichier principal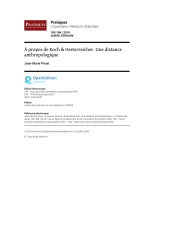 pratiques-6921.pdf (277.31 Ko)
Télécharger le fichier
Origin : Publisher files allowed on an open archive