How to optimize the collaboration between ER physicians and general practitioners : a study of admissions of patients from nursing home ta the emergency room.
Observation du passage des patients provenant d'EHPAD aux urgences : existe-t-il un moyen d'optimisation de la collaboration entre médecins de SAU et médecins généralistes ?
SUJET: évaluer tout au long de l'année 2014 les consultations au SAU du CHR Metz hôpital de Mercy des patients âgés domiciliés en EHPAD. MATÉRIEL ET MÉTHODE: Il s'agit d'une étude descriptive quantitative longitudinale rétrospective monocentrique. RÉSULTATS: 1971 dossiers de consultation ont été étudiés. Il s'agissait de 1410 femmes et 561 hommes (moyenne d'âge 86,5 ans). L'orientation comportait 52% d'hospitalisations, 47,3% de retours à domicile et 0,35% de décès. 57,93% des hospitalisations se faisaient en UHCD. Les motifs principaux de consultation étaient répartis ainsi: traumatismes (32,37%) dont chute (28,97%), pathologies pulmonaires (17,91%), signes généraux (13,24%), et les diagnostics: traumatologie (32,01%) dont contusion (12,02%), infectiologie (16,44%) dont pneumopathie bactérienne (7,86%), affections cardiovasculaires (12,43%) dont insuffisance cardiaque (3,55%). 94,06% des patients bénéficiaient d'un examen paraclinique (biologie 474,07%; imagerie 74,68%; ECG 55%). On notera que 43,73% des patients ont eu au moins trois examens paracliniques. Par ailleurs, 26,18% des patients ont bénéficié d'un avis spécialisé et 61,65% d'un acte thérapeutique. Enfin, 44,04% des patients avaient consulté aux urgences dans les 6 mois précédant leur passage. CONCLUSION : Il est difficile de réellement juger de l'absence de pertinence de certaines de ces consultations, d'autant que le jugement se fait a posteriori. On constate que les patients d'EHPAD ont un recours important aux consultations d'urgence, leur situation implique un temps de passage plus long, de nombreuses prescriptions d'examens complémentaires et un plus fort taux d'hospitalisation. La collaboration entre le personnel soignant libéral ou de structure d'EHPAD et le médecin régulateur pourrait être améliorée par différents axes: élargissement de l'offre de PDSA, exemple de SOS médecin, augmentation de la présence des médecins coordonnateurs à l'EHPAD, formation du personnel paramédical et protocoles de soins précoces édités par le SAMU et enfin essor de la télé-médecine qui offre de nombreuses possibilités de développement de la médecine à l'avenir.
Fichier principal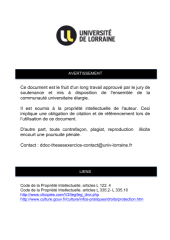 BUMED_T_2018_MORANA_CLAIRE.pdf (1.07 Mo)
Télécharger le fichier
Origin : Files produced by the author(s)