Should we turn IVF into IUI in case of poor response to stimulation?
Faut-il transformer les FIV en IIU lors d'une mauvaise réponse à la stimulation ?
INTRODUCTION : Dans 6% des tentatives de FIV survient une réponse insuffisante à la stimulation ovarienne. Trois choix sont alors possibles: procéder à la ponction ovocytaire, convertir le cycle en IIU ou stopper le cycle. Les résultats dans la littérature sont contradictoires. Nous avons comparé les taux de grossesses évolutives chez les mauvaises répondeuses en fonction de la technique utilisée (FIV ou IIU) en prenant en compte l'âge et l'IMC de la patiente et deux marqueurs de la réserve ovarienne : le CFA et l'AMH. MATÉRIEL ET MÉTHODES : Etude rétrospective incluant 499 cycles non stoppés de patientes mauvaises répondeuses selon les critères de Bologne, avec seulement un à trois follicules supérieurs à 14mm lors d'une stimulation pour FIV dans le centre de PMA de Poissy-St- Germain-en-Laye de janvier 2007 à décembre 2017. Régression logistique incluant la technique (FIV ou IIU), l'âge, l'IMC, le CFA et l'AMH avec comme critère principal la survenue d'une grossesse évolutive. Analyse secondaire comparant les taux de grossesses évolutives en fonction du groupe (A : FIV ou ICSI ; B : IIU) et du nombre de follicules. RÉSULTATS : 469 cycles ont été inclus dans la régression logistique. Le taux de grossesses évolutives n'étaient pas significativement différents entre les deux techniques (p=0.232) lorsque l'âge, l'IMC, le CFA et l'AMH étaient pris en compte. 273 cycles avec ponction ovocytaire (groupe A) et 226 cycles avec conversion en IIU (groupe B) ont été inclus dans l'analyse secondaire selon le nombre de follicules. Elle n'a pas mis en évidence de différence significative en faveur de la ponction ovocytaire ou de la conversion en IIU (1 follicule: 7.1% versus 4.0%, p=0.42 ; 2 follicules: 8.0% versus 3.9%, p=0.33 ; 3 follicules: 6.4% versus 4.5%, p=1 respectivement pour le groupe A et le groupe B). DISCUSSION : Les résultats de notre étude, les risques et coût supérieurs de la FIV par rapport à l'IIU sont en faveur de la conversion des cycles de FIV en IIU chez les mauvaises répondeuses avec 1 à 3 follicules supérieurs à 14 mm. Une étude prospective intégrant un 3ème groupe avec arrêt de la tentative serait intéressant pour confirmer nos résultats.
Fichier principal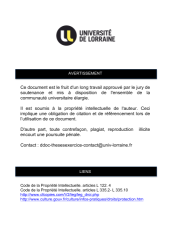 BUMED_T_2018_BUGHIN_CHLOE.pdf (1.15 Mo)
Télécharger le fichier
Origin : Files produced by the author(s)