Prevention of type II endoleak in the management of renal abdominal under aneurysms by EVAR : is selective intraoperative embolization the solution?
Prévention des endofuites de type II dans le cadre de la prise en charge des anévrismes de l'aorte abdominale sous rénale par EVAR : l' embolisation sélective peropératoire est-elle la solution ?
INTRODUCTION : A partir de 1990(1), le développement des techniques endovasculaires a modifié la stratégie de prise en charge des anévrismes de l'aorte abdominale. Ces procédures sont regroupées sous le terme Endovascular Aneurysm Repair (EVAR) (4).L'endofuite de type II représente une des complications les plus fréquentes évaluées à 31% dans les dernières métaanalyses. Elle résulte de la réinjection du sac par l'artère mésentérique inférieure (AMI) ou des artères lombaires. Le but de cette étude était d'évaluer la méthode d'embolisation sélective peropératoire des artères AMI et lombaires chez des patients à risque de développer une endofuite de type II dans la prise en charge d'un AAA sous rénale par EVAR. MATÉRIEL ET MÉTHODE : Entre mars 2015 et mars 2017, sur deux centres nous avons recueillis de manière rétrospective tous les patients, sur leur CTA préopératoire, ayant comme caractéristique la perméabilité de l'AMI de diamètre supérieur à 2,5 mm et/ou des artères lombaires: 3 paires ou 2 paires associées à une autre artère efférente ou un diamètre des artères lombaires supérieur à 2mm. Nous avons réparti les patients en deux groupes : un groupe ayant bénéficié d'une embolisation sélective de l'AMI et/ou des artères lombaires (GE) et un groupe contrôle sans embolisation (GNE). La surveillance était effectuée par un CTA à 1, 6 et 12 mois. Le critère de jugements principal était la présence ou non d'endofuite de type II et le critère secondairela régression du sac anévrismal. RÉSUTATS : 54 patients ont été inclus dans l'étude. 29 ont bénéficié d'une embolisation et 25 étaient dans le groupe contrôle. Le scanner préopératoire retrouvait une moyenne de 5,25 artères efférentes dans le GE et 5,48 pour le GNE (P=0,6534).Le suivi moyen était de 18,31 mois dans le GE et 17,17 mois dans le GNE. 41,4% des patients ont bénéficié d'une embolisation par plug de l'AMI et 37,9% par coïls et 51,7 % d'une embolisation d'artères lombaires. 10,3% des patients du GE présentaient une EII par une artère lombaire, 32% pour le GNE (p=0,036). Aucune EII issue de l'AMI n'a été retrouvée dans le GE alors que 20% sont retrouvées dans le GNE (P=0,0185). Concernant l'évolution du sac anévrismale, nous avons reporté l'évolution en quatre catégories : stabilité du sac, diminution inférieure à 10 mm , forte régression évaluée entre 10 et 21 mm et progression du sac (conséquence d'une non exclusion totale du sac anévrismal). Nous n'avons retrouvé aucune différence des risques relatifs en comparant les deux groupes concernant ces catégories. Aucun des patients n'a présenté de complication de type ischémie digestive ou de paraplégie suite à l'embolisation. CONCLUSION : L'embolisation sélective peut être considérée comme une méthode endovasculaire complémentaire du traitement de l'AAA par EVAR chez les patients à risque lorsqu'elle est réalisable.
Fichier principal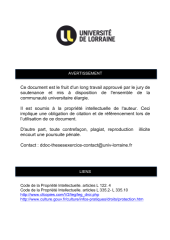 BUMED_T_2018_SALOMON_CAMILLE.pdf (979.07 Ko)
Télécharger le fichier
Origin : Files produced by the author(s)