Strategy using high-sensitivity troponin at the emergency department of the University Hospital of Nancy : towards a better management of Non ST Elevation Myocardial Infarction ?
Stratégie utilisant des troponines ultrasensibles au service d'accueil des urgences du CHRU de Nancy : vers une meilleure prise en charge du syndrome coronarien aigu sans élévation du segment ST ?
Cette étude réalisée au sein du service des urgences du CHRU de Nancy évalue l'impact de l'arrivée des troponines ultrasensibles. Introduites le 1er juillet 2018, en remplacement des troponines sensibles, elles devaient améliorer la prise en charge du NSTEMI. MATÉRIELS ET MÉTHODES : notre étude rétrospective monocentrique a comparé deux périodes utilisant chacune un dosage de troponine différente (l'une dite « standard », l'autre dite « ultra-sensible »). RÉSULTATS : notre étude a inclus 933 patients qui ont bénéficiés d'un dosage de troponines aux urgences : 532 dans le groupe troponine standard et 401 dans le groupe troponine ultrasensible. 277 patients ont été exclus de l'analyse. L'âge moyen de la population totale est 58,4ans, le sex ratio est 1/1. Les pathologies les plus fréquentes sont : douleur thoracique sans précision (35% des patients), puis viennent l'insuffisance cardiaque (6,7%) et l'insuffisance respiratoire aigüe (6,3%). On soulignera le faible taux de SCA dans les deux groupes (standard 2,6% vs ultrasensible 1,7%) Il n'existe pas de différence significative en termes de prescription de troponine ultrasensible et donc pas de diagnostic de SCA supposé de façon excessive entre les deux périodes. Les délais des cycles de troponine sont de 210 minutes dans le groupe standard et de 180 minutes dans le groupe ultrasensible. Le délai de séjour aux urgences reste identique dans les deux groupes (401,5 versus 395 minutes). DISCUSSION ET CONCLUSION : si tout porte à croire qu'elles n'ont pas aboutis à une prise en charge plus rapide, elles n'en sont pas moins efficaces. Il n'a pas été démontré qu'il y avait un surdiagnostic, ce qui était l'un des éléments importants vis-à-vis de ce nouveau dosage de la troponine. Aussi, elles permettraient, en plus de poser un diagnostic de NSTEMI, de trouver parmi les patients se présentant aux urgences pour douleur thoracique ceux qui nécessitent une prise en charge spécialisée afin de prévenir tout évènement cardiologique ultérieur, ce qui peut représenter un atout majeur de santé publique. La mise à disposition d'une troponine ultrasensible intégrée dans une démarche encadrée, dans un algorithme reposant sur des données scientifiques fortes n'entrainent pas « d'explosions » des prescriptions, ni de diagnostics de SCA supposés.
Fichier principal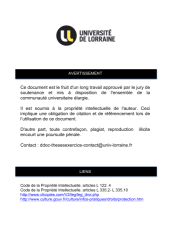 BUMED_T_2019_SEVERIN_ANNE_CECILE.pdf (4 Mo)
Télécharger le fichier
Origin : Files produced by the author(s)