Évaluation de l'impact sur la température de surface de certains projets emblématiques de réaménagement dans l'aire métropolitaine de Casablanca (Maroc)
The metropolis of Casablanca, Morocco's leading economic hub, has undergone remarkable urban transformation in recent decades in order to meet its socio-demographic challenges and improve its attractiveness. Many large-scale projects have been launched and have led to the redevelopment of several important sites. The present study proposes to analyze, with the help of remote sensing data, five iconic sites that have undergone major redevelopment in the last 20 years. The aim is to assess the impact of these redevelopments on the urban environment based on variations in land surface temperatures (LST). This involves examining the LST of these sites before and after these operations using a model based on spectral indices. The objective is to determine whether the main urban projects in Casablanca take into account the problem of urban overheating and whether or not they result in an improvement in the thermal comfort for the population.
La métropole de Casablanca, premier pôle économique du Maroc, a connu ces dernières décennies une mutation urbaine remarquable afin de répondre aux défis socio-démographiques et améliorer son attractivité. De nombreux projets d'envergure ont été lancés et ont abouti au réaménagement de plusieurs sites importants. La présente étude se propose d'analyser, à l'aide des données de la télédétection, quatre sites emblématiques ayant fait l'objet d'un réaménagement majeur au cours des 20 dernières années. Il s'agit d'évaluer l'impact de ces requalifications sur l'environnement urbain en s'appuyant sur les variations au niveau des températures de surface terrestres (Ts). Ceci implique d'examiner les Ts de ces sites avant et après ces opérations à l'aide d'une analyse basée sur des indices spectraux. L'objectif est ainsi de déterminer si les principaux projets urbains casablancais prennent en compte la problématique de la surchauffe urbaine et se traduisent ou non par une amélioration du confort thermique pour la population.
Fichier principal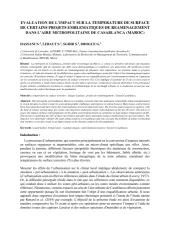 Résumé étendu AIC 2021 Hassani et al.pdf (745.24 Ko)
Télécharger le fichier
Origin : Files produced by the author(s)