Le potentiel de l'avatar : choix opérés de l'utilisation d'un avatar par des apprenants de langue dans l'environnement virtuel immersif VRChat
This paper focuses on to study the role of avatars in the choices made by users of the immersive virtual environment (IVE) VRChat in the context of language learning. I specifically chose the interactive virtual environment (IVE) VRChat, as it has unique properties when it comes to its choice of avatars. Seeking to explore the potential of using avatars for language learning purposes on this platform, I had four students from the University of Lorraine participate in workshops. They discovered VRChat by selecting an avatar of their choice and engaging in conversations with other users of the platform. These learners then returned to watch their performance in the workshop and explain their choices, commenting on their experience and answering questions about their avatars. Alongside this, I was also able to have an interview with a user who regularly uses VRChat for language learning purposes, to see if his opinions about avatars were like those of the other learners, who had no experience. I was able to discover, through my research, that avatars on VRChat have several perceived affordances and effects that modify the conversational framework.
Ce mémoire a pour objectif d'étudier le rôle de l'avatar dans les choix opérés par les utilisateurs de l'Espace Virtuel Immersif (EVI) VRChat dans le contexte d'apprentissage des langues. L'espace virtuel immersif de VRChat a été choisi car il présente des caractéristiques uniques par son choix d'avatars possibles. Voulant explorer le potentiel de l'utilisation d'avatars pour l'apprentissage des langues sur cette plateforme, un atelier a été animé auprès de quatre étudiants de l'Université de Lorraine. Ils ont découvert VRChat, sélectionnant un avatar et s'engageant dans des conversations avec d'autres utilisateurs de la plateforme. Ces apprenants ont ensuite été invités pour participer à un entretien d'explication, où ils ont commenté leur expérience et répondu à des questions au sujet des avatars. En parallèle de cela, un entretien a été réalisé avec un utilisateur qui exploite régulièrement VRChat à des fins langagières, pour voir si ses avis au sujet des avatars se rapprochaient des autres apprenants, qui eux étaient sans expérience. Les résultats de ma recherche montrent que les avatars de VRChat possèdent plusieurs affordances et effets perçus qui modifient le cadre conversationnel.
Fichier principal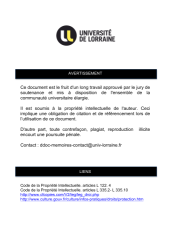 LSHS_M_2021_EARING_WILLIAM.pdf (1.32 Mo)
Télécharger le fichier
Origin : Files produced by the author(s)