What tasks do general practitioners wish to entrust to their physician assistant ?
Quelles fonctions les médecins généralistes souhaitent-ils confier à leur assistant de cabinet médical ?
INTRODUCTION : L'assistant médical est un nouveau métier de la santé introduit dans le projet de loi Ma Santé 2022 dont un des objectifs est de déployer quatre mille de ces nouveaux professionnels sur le territoire français d'ici 2022. Les assistants médicaux bénéficient déjà d'un financement encadré, mais aucune fiche de poste ne définit leur activité. Seuls trois axes ont été donnés. OBJECTIF : Définir les missions des assistants médicaux qui seront les plus bénéfiques dans la priseen charge des patients selon les médecins généralistes. MATÉRIELS ET MÉTHODES : Enquête auprès de médecins généralistes lorrains inspirée de la méthode Delphi, à l'aide de deux questionnaires, de novembre 2019 à février 2020. Le premier questionnaire a permis de recueillir la totalité des missions que les participants souhaitaient confier aux assistants médicaux. Le second, s'appuyant sur la participation des mêmes médecins, consistait à classer chaque mission en trois catégories « indispensable », « utile » et « accessoire ». RÉSULTATS : Soixante-neuf missions ont pu être identifiées. Parmi ces dernières, les « indispensables » sont celles correspondant à des tâches de secrétariat, d'aide à la consultation, de réalisation d'examens complémentaires, de coordination des soins et d'activité médico-administrative hors consultation. Ce sont ces missions qui nous semblent les plus intéressantes à inscrire dans la fiche de poste de base d'un assistant médical. DISSCUSSION : L'assistant médical est une nouveauté en France dont l'acceptation par les praticiens reste à démontrer. On note, chez ces assistants, des fonctions redondantes avec les métiers de secrétaire médicale, infirmier en pratique avancée ou ASALEE. Ces éléments nous font nous interroger sur les bénéfices apportés par la création de ce nouveau professionnel de santé.
Fichier principal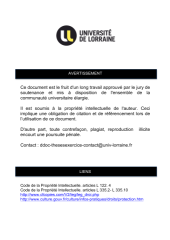 BUMED_T_2020_MOHAMED_FARZAAD.pdf (2.12 Mo)
Télécharger le fichier
Origin : Files produced by the author(s)