Analyse du langage élaboré chez des patients atteints de sclérose en plaques
Multiple sclerosis is a chronical demyelinating disease of the central nervous system. It is the cause of many disorders, mainly motor disorders and disturbed sensation. Cognitive disorders also frequently occur in MS. Considering the existence of cognitive disorders and white matter lesions, high level language impairments can be suspected in this pathology. The objective of our study was to analyse the high-level language abilities of MS patients. For that purpose, we assessed these abilities for 16 MS patients using a French battery, the TLE (Test de Langage Elaboré). Our results show that most of them obtained very low scores at at least one of the 15 tests. The most failed tests were those assessing lexical semantic and syntactic abilities. A greater study, with a greater number of participants is still necessary for a generalization of the present results.
La sclérose en plaques est une affection chronique démyélinisante du système nerveux central survenant chez l'adulte jeune. Elle est responsable d'une grande variété de troubles : moteurs, sensitifs, mais aussi cognitifs. La présence de troubles cognitifs ainsi que la localisation des lésions dans la substance blanche sont des indicateurs permettant de soupçonner des troubles du langage élaboré dans cette pathologie. Le but de ce travail était d'analyser les compétences en langage élaboré de patients souffrant de sclérose en plaques. Nous avons donc fait passer le Test de Langage Elaboré (TLE) à 16 patients. L'analyse des résultats obtenus à ce test montrent qu'une majorité de patients obtient des résultats pathologiques à au moins l'une des épreuves. Les épreuves les plus fréquemment chutées sont celles qui évaluent les capacités lexico-sémantiques et syntaxiques. Un travail à plus grande échelle semble nécessaire pour généraliser ces résultats.
Fichier principal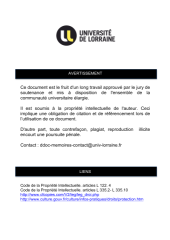 BUMED_MORT_2019_PEGEOT_JULIA.pdf (953.28 Ko)
Télécharger le fichier
Origin : Files produced by the author(s)