Intervention orthophonique en langage oral et communication : recueil et diffusion des moyens thérapeutiques adaptés à la patientèle multilingue / multiculturelle
This dissertation aims to study the means and methods which are currently available to french Speech and Language Therapists, given the current scientific and clinical knowledge, in order to provide interventions in the field of speech and communication adapted to the needs of multilingual or multicultural patients. Our method consists in collecting data regarding the current practices, using a questionnaire, and in collecting additional therapeutic tools to offer alternative answers when needed. The collected tools are gathered in a file and a few videos are also made to show how some of those tools can be used with patients.
Ce mémoire a pour propos l'étude des moyens matériels et méthodologiques dont disposent aujourd'hui les orthophonistes francophones, pour concevoir et mettre en place une intervention orthophonique en langage oral et communication adaptée aux besoins des patients multilingues ou évoluant en contexte multiculturel, étant données les connaissances scientifiques actuelles et les outils existants. Notre méthodologie repose sur le recueil de données concernant la pratique actuelle des orthophonistes via un questionnaire d'analyse des pratiques et sur le recensement d'outils thérapeutiques complémentaires pour proposer des réponses là où des manques se font sentir. Nous présentons les résultats de ces recherches sous la forme d'un recueil de matériel et de vidéos illustrant l'utilisation de quelques outils.
Fichier principal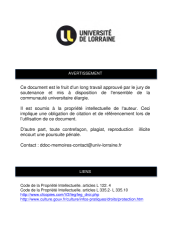 BUMED_MORT_2019_SOMMAIRE_FREDERIQUE.pdf (2.43 Mo)
Télécharger le fichier
Origin : Files produced by the author(s)