De la prise en compte des hétérogénéités morphologiques et structurales vers l'interprétation de la réactivité globale d'un hydroxyde d'aluminium
Interfaces mineral oxide-aqueous medium are essential for the understanding of the reactions which take place in natural environments. The objective of this study is to interpret a macroscopic behavior (such as surface charge or a sorption process) using local mechanisms at the surface of an mineral oxide or hydroxide. Gibbsite g-Al(OH)3 was selected for this study because it presents an anisotropy of surface sites according to the exposed crystalline faces. The morphological heterogeneity of the sample (size distribution of the particles, aspect ratio) is characterized by a statistical analysis from Atomic Force Microscopy images. The structure of the OH in volume and at the surface (bond lengths and orientations, interactions between hydroxyls) is determined by infrared and Raman spectrometries. This information is used for the interpretation of potentiometric titrations and the determination of the point of zero charge of the sample.
Les interfaces oxyde minéral - milieu aqueux sont des éléments-clés des réactions se déroulant dans les milieux naturels. L'objectif de cette étude est d'interpréter un comportement macroscopique (tel que la charge de surface ou un processus de sorption) à l'aide de mécanismes locaux se déroulant en surface d'un oxyde ou hydroxyde minéral. La gibbsite g-Al(OH)3 a été choisie pour cette étude car elle présente une anisotropie de sites de surface en fonction des faces cristallines exposées. L'hétérogénéité morphologique de l'échantillon (distribution en taille des particules, facteur de forme) est caractérisée par une analyse statistique à partir d'images de Microscopie à Force Atomique. La structure des OH en volume et en surface (longueurs de liaison, orientations, interactions entre groupements) est déterminée par spectrométries infrarouge et Raman. Ces informations permettent l'interprétation de titrages potentiométriques et la détermination du point de charge nulle de l'échantillon.
Fichier principal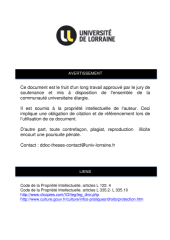 SCD_T_2004_0158_JODIN.pdf (3.58 Mo)
Télécharger le fichier
Origin : Files produced by the author(s)