Intérêt des cellules souches mésenchymateuses en ingénierie tissulaire du cartilage : effets des stimuli mécaniques et biochimiques
Cartilage tissue engineering could lead to reconstruct a re-implantable neo-cartilage by using cells such as chondrocytes and mesenchymal stem cells (MSCs) cultured in a scaffold. Different mechanical and biochemical factors play an essential role in this process as well. The aim of this study was to investigate firstly, the influence of monolayer expansion of human chondrocytes and MSCs on the cell phenotype. Secondly, the cellular responses of chondrocytes and MSCs to mechanical stimulations (agitation and intermittent dynamic compression) as well as to biochemical stimulations (TGF-pl and BMP-2) have been examined in an alginatelHA hydrogel. Our results showed that notable dedifferentiation of chondrocytes has occurred from passage 2, while MSCs have still kept their undifferentiated phenotype until passage 5. ln addition, the application of these mechanical strains and growth factors has been demonstrated to improve metabolic activity, cell proliferation, chondrogenic gene expression as well as synthesis of cartilaginous matrix. These effects are closely related to the mechanical parameters (duration, frequency) and the cell type.AlI of these results suggested that the control of culture conditions and the application of mechanical strains as well as growth factors could modulate the differentiation state and the chondrogenesis.
L'ingénierie tissulaire du cartilage permet de reconstruire un néo-cartilage réimplantable en utilisant des cellules telles que les chondrocytes et les cellules souches mésenchymateuses (CSMs) cultivés dans des biomatériaux tridimensionnels. Des facteurs mécaniques et biochimiques y jouent un rôle essentiel. Le but de nos travaux a été d'évaluer, dans un premier temps, l'influence de l'expansion des chondrocytes et des CSMs humains en monocouche sur l'évolution du phénotype cellulaire. Dans un deuxième temps, une étude concernant les réponses biologiques des chondrocytes et des CSMs exposés aux stimulis mécaniques (entrechoquement et compression dynamique intermittente) et biochimiques (TGF-pl et BMP-2) a été réalisée dans un hydrogel d'alginate/HA. Nos résultats ont montré une dédifférenciation notable des chondrocytes à partir du deuxième passage, alors que les CSMs ont maintenu leur phénotype indifférencié après 5 passages. Par ailleurs, nous avons mis en évidence que l'application de contraintes mécaniques ainsi que la stimulation de facteurs de croissance peuvent améliorer l'activité métabolique, la prolifération cellulaire, l'expression des gènes chondrogéniques ainsi que la synthèse de la matrice cartilagineuse. Cependant, ces effets sont étroitement liés aux paramètres mécaniques (durée, fréquence) et au type cellulaire. L'ensemble de ces travaux suggère que le contrôle des conditions de culture ainsi que l'application des contraintes mécaniques et biochimiques peuvent moduler le stade de différenciation chondrocytaire et donc la chondrogénèse.
Fichier principal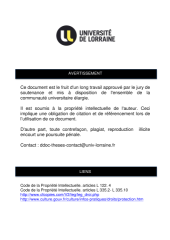 SCD_T_2007_0163_WANG.pdf (11.67 Mo)
Télécharger le fichier
Origin : Files produced by the author(s)