Mise en évidence de l'antagonisme hypaphorine / AIA lors du développement de l'ectomycorhize Pisolithus tinctorius-Eucalyptus globulus
Very little is known about the molecules regulating the interaction between plants and ectomycorrhizal fungi during root colonisatio'n. Therole of fungal auxin in ectomycorrhiza has repeatedly been suggested and questioned, suggesting that if fungal auxin controls sorne steps of colonised root development, its activity might be tightly controlled in time and in space by plant and/or fungal regulatory mechanisms. Hypaphorine, the major indolic compound isolated from the ectomycorrhizal nmgus Pisolithus tinetorius, controls root hair elongation rate. At inhibitory concentrations, hypaphorine induces a transitory root hair tip swelling associated with root hairs cytoskeleton reorganisation. While IAA had no activity on root hair elongation, IAA was able to restore root hair polar growth following inhibition by hypaphorine. Hypaphorine activity could imply calcium flux modifications at the root hair tip. Furthennore, two experimental results confirm hypaphorine / IAA antagonism. We have demonstrated that hypaphorine counteracts the inhibiting activity of IAA on Eucalyptus taproot elongation. Likewise, while seedling treatment with ACC, the precursor of ethylene, results in formation of an hypocotyle apical hook, hypaphorine application as weil as root colonisation by Pisolithus tinetorius, stimulated hook opening. Hypaphorine counteraction with ACC is likely a consequence of hypaphorine interaction with IAA. In most plant microbe interactions studied, the interactions result in increased auxin synthesis or auxin accumulation in plant tissues. The P. tine/orius / Eucalyptus interaction is intriguing because here, the microbe down regulates the auxin activity in, the host plant. Hypaphorine might be the first specific IAA antagonist identified.
La mise en place de la symbiose mycorhizienne implique l'établissement d'un dialogue entre deux partenaires, une plante et un champignon. Cette communication se fait par l'intermédiaire de molécules signal. La synthèse et l'accumulation d'hypaphorine (un alcaloïde indolique) dans les hyphes de Pisolithus tinctorius colonisant les racines d'Eucalyptus globulus a été précédemment rapportée. Bien que de structure moléculaire très proche de l'auxine naturelle (l'acide 3-indole acétique ou AIA), l'hypaphorine ne possède aucune activité auxinique sur le développement racinaire ou l'élongation des poils absorbants. Au contraire, l'hypaphorine se comporte comme un antagoniste de l'AIA. En effet, alors que les auxines (AIA et 2,4 d) stimulent faiblement l'allongement des poils absorbants, l'hypaphorine l'inhibe. La croissance apicale des poils inhibés par l'hypaphorine peut être restaurée en présence d'AIA. Cette inhibition s'accompagne de déformations à l'apex des poils, et d'une réorganisation du cytosquelette. L'activité de l'hypaphorine pourrait impliquer une modification des flux calciques à l'apex des poils. Par ailleurs, deux résultats expérimentaux confirment l'antagonisme hypaphorine / AIA. Nous avons montré que l'hypaphorine restaure l'allongement de pivots d'eucalyptus inhibés par de fortes concentrations d'AIA. De même l'hypaphorine synthétisée et accumulée par le champignon Pisolithus tinctorius au cours du développement de l'ectomycorhize, possède une activité anti-auxinique ; elle induit le redressement des hypocotyles d'eucalyptus cultivés en présence d'ACC (un précurseur de la synthèse d'éthylène). Il s'agit là de la première démonstration faisant état d'une réduction de l'activité de l'AIA dans les tissus de la plante hôte, par un microorganisme. Ainsi, certaines étapes critiques au cours de l'ontogenèse mycorhizienne, nécessiterait un subtil équilibre entre des molécules actives comme l'AIA et des molécules régulatrices comme l'hypaphorine.
Fichier principal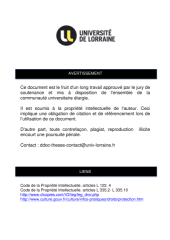 SCD_T_2000_0046_DITENGOU.pdf (20.9 Mo)
Télécharger le fichier
Origin : Files produced by the author(s)