Conception, synthèse et étude biologique d'inhibiteurs de phosphoénolpyruvate lyases : vers un nouveau type d'antibiothérapie
This manuscript presents work of design, synthesis and biological study of new molecules with antibiotic aimings. The 2 therapeutic targets that we chose are enzymes, namely: the KDO-8-phosphate synthetase and the DAH-7-phosphate synthetase. These proteins are of the same family of the phosphoenolpyruvate lyases, and respectively catalyses the aldolic condensation of the phosphoenolpyruvate on the A5P and the E4P aldehyds. One take place in the biosynthesis of the bacterial cell wall, whereas second is at the origin of the aromatic amino acids biosynthesis. The synthetized inhibitors mimic the supposed transition state of these enzymatic reactions. The antibiograms carried out on various bacterial strain show unquestionable an effectiveness of these molecules. In the second time, we developed several methods of isotopic labelling with deuterium on pyruvic moiety in: aliphatic, aromatic and glucidic series, in order to synthesize labelled substrates and inhibitors, for the study of the above mentioned enzymes.
Ce manuscrit présente les travaux de conception, de synthèse et d'étude biologique de nouvelles molécules à visées antibiotiques. Les 2 cibles thérapeutiques qui ont été choisies sont des enzymes, à savoir : la KDO-8-phosphate synthétase et la DAH-7-phosphate synthétase. Ces protéines de la même famille des phosphoénolpyruvate lyases catalysent la condensation aldolique du phosphoénolpyruvate sur l'aldéhyde respectivement de l'A5P et de l'E4P. L'une intervient au niveau de la biosynthèse de la paroi bactérienne, alors que la seconde est à l'origine de la biosynthèse des acides aminés aromatiques. Les molécules synthétisées sont des mimes de l'état de transition supposé de ces réactions enzymatiques. Les antibiogrammes réalisés sur différentes souches bactériennes ont démontré une efficacité certaine de ces molécules sur différentes souches bactériennes à Gram négatif et positif. Dans un deuxième temps, plusieurs méthodes de marquage isotopique au deutérium sur des motifs pyruviques en séries aliphatique, aromatique et glucidique ont été mises au point dans le but de synthétiser des substrats et des inhibiteurs marqués, en vue de l'étude des enzymes précitées.
Fichier principal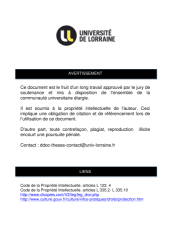 SCD_T_2003_0016_PETEK.pdf (44.84 Mo)
Télécharger le fichier
Origin : Files produced by the author(s)