Etude expérimentale du système fer-smectite en présence de solution à 80°C et 300°C
In order to predict the possible chemical and mineralogical evolutions of a bentonite used as backfill material in the design of nuclear waste disposal, experiments were carried out using the MX80 bentonite placed in the presence of a solution and iron, at 80 and 300?C for 1 day to 9 months. Run products were characterised by X-ray diffraction, scanning electron microscopy, transmission electron microscopy (HR imaging, EDS and EELS) MÉossbauer spectroscopy, ICP AES and ICP MS analyses of solutions. the EQ3/6 geochemical code was used to simulate the evolutions of the system in the given conditions. A new method for the punctual determination of the valence of iron in clay minerals was developed, using electron energy loss spectroscopy (EELS) on TEM.
Dans la perspective de prédire les transformations chimico-minéralogiques possibles d'une bentonite placée en conditions de stockage profond de déchets radioactifs, plusieurs séries d'expériences ont été réalisées utilisant la bentonite MX80 en présence d'une solution chlorurée sodi-calcique, en absence ou en présence de fer (magnétite + hématite ou fer métal + magnétite), à 80 et 300 ?C et pour des durées de 1 jour à 9 mois. Les produits de réactions ont fait l'objet de caractérisations multi-échelles et multi-techniques : diffraction des rayons X, microscope électronique à balayage et en transmission (imagerie haute résolution, EDS et EELS), microsonde électronique, spectroscopie MÉossbauer et analyse ICP AES et ICP MS des solutions. Le code de calcul EQ3/6 a été utilisé pour simuler les expériences réalisées. Une nouvelle méthode ponctuelle de détermination de la valence du fer dans les argiles au MET par spectroscopie de perte d'énergie des électrons (EELS) a été développée.
Fichier principal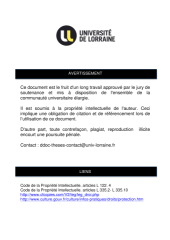 SCD_T_2002_0033_GUILLAUME.pdf (5.43 Mo)
Télécharger le fichier
Origin : Files produced by the author(s)