Traitement de couche limite et méthodes Pic : algorithmes et approche objet
The work exposed in this document is made up of two relatively independant parts. The first part deals with mathematical and numerical simulations for a model of high frequency electromagnetic shaping of liquid metals. The asymptotic analysis gives prominence to the existence of singular perturbation problems with a weak layer closeness of the conductor surface. From our numerical model simplified formulation emerge two kinds of singular perturbation problems, classical elliptic problem and elliptic problem with electromagnetic transmission. We study in details a domain decomposition without recovering based on finite difference framework in one dimensional space to solve the transmission problem. We show that, for a good choice of the domain decomposition and boundary conditions at the artificial interface, we obtain a uniform approximation of the solution and the iterative procedure convergence rate which is superlinear. Then, we generalize these results into a two dimensional space for the radial case and we apply our results to enhanced finite element computations. We obtained rigorous convergence and accuracy estimates which seems to indicate that these schemes could be extended to more general geometries . The second part deals with a problem in computer science from ? a computer science point of view: underlining opportunities of the objectoriented paradigm for advanced P.LC (Particle-In-Cell in plasma physic) modelling, with these known advantages : increased fiexibility, extensibility, robustness and so on. A two-dimensional relativistic electromagnetic PIC code implementation has been made . ? a numerical point of view : a comparative study about electrical field correction in electromagnetic PIC plasma simulations is done. We analyze two techniques for reducing electric field error: the first one consists in using a charge conservating method to compute charge and current density onto the Maxwell discretization mesh, the second one is to use one divergence correction of electric fields based on the reformulated Maxwell system.
Le travail exposé dans ce document se compose de deux parties relativement indépendantes. La première relève de l'analyse et de la simulation numérique d'un problème physique lié au formage électromagnétique en haute fréquence. Le comportement asymptotique du modèle met en évidence l'existence d'une couche limité au voisinage de la surface du conducteur. Une écriture simplifiée d'un modèle numérique de notre problème a permis de dégager deux sous-problèmes à perturbation singulière, un problème elliptique classique et un problème elliptique avec transmission du phénomène électromagnétique. Nous étudions de façon complète en dimension un d'espace une méthode de décomposition de domaine sans recouvrement basée sur un schéma de résolution en différences finies et nous montrons, que pour un bon choix de la décomposition de domaine et de bonnes conditions limités à la frontière du métal, l'algorithme fournit une approximation uniforme de la solution et la vitesse de convergence du schéma itératif est super linéaire. Puis, nous généralisons à la dimension 2, dans le cadre de géométries circulaires. Une implémentation des algorithmes étudiés, utilisant une approximation de type éléments finis nous a fourni de bons résultats, quant à la précision de la solution obtenue et la vitesse de convergence. Ceci nous laisse penser que ces algorithmes devraient s'adapter à des géométries plus complexes. La seconde partie est plus de nature calcul scientifique avec - des aspects informatiques : par la mise en évidence de l'apport de la programmation orientée objet (p.o.o) pour répondre à des critères de qualité d'un code (exactitude, robustesse, extensibilité, réutilisabilité), et l'implémentation d'un code pic (particle-in-cell) de la physique des plasmas. - et des aspects plus numérique : par une étude comparative des méthodes de correction du champ électrique dans un modèle pic. Une première approche consiste à faire un calcul des densités de telle façon que l'équation de conservation de la charge soit vérifiée. La seconde approche consiste à effectuer une correction des champs électriques après la résolution des équations de maxwell.
Fichier principal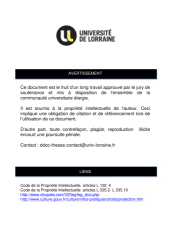 SCD_T_2000_0015_VIRY.pdf (4.04 Mo)
Télécharger le fichier
Origin : Files produced by the author(s)