Origine, âge et processus physico-chimiques des circulations de fluides dans les fractures : exemple de socle sous couverture (Vienne) et de formations riches en argiles (Gard, Est)
The study of minerals sealing the discontinuities and the cavities by past to recent fluid circulations is the only method to assess the paleo -hydrological and -hydrogeochemical behavior of both sedimentary or granitic systems. Petrographic, mineralogic, isotopic and geochemical tools provide the opportunity to identify the source and the nature of sealing-forming waters and to precise the physical and chemical mechanisms occurring during fluid circulations. This study is focused on 3 sites selected in the framework of a survey managed by ANDRA for the feasibility of an underground laboratory (plutonites of Vienne, Cretaceous siltites of Marcoule, argillites in the Eastern part of the Paris basin). Our methodology, based on the combined use of C-O isotopic tracers, petrographic, mineralogical and thermal (fluid inclusion, organic matter, clay typology) studies, is a promising powerful tool to assess the paleo-hydrogeologic behavior in geological systems.
L'étude des colmatages minéraux déposés dans les discontinuités lors des circulations de fluides, anciennes à récentes, est l'unique moyen de reconstituer les comportements paléo-hydrologique et -hydrogéochimique des milieux granitiques ou sédimentaires. Le couplage d'outils pétrographiques, minéralogiques, isotopiques et géochimiques a permis de déterminer la source et la nature des fluides, et les processus physico-chimiques à l'origine des colmatages. 3 contextes distincts ont été ciblés dans le cadre des recherches menées par l'ANDRA pour l'implantation d'un laboratoire souterrain (le granite de la Vienne, les siltites du Gard et les argilites de l'Est du bassin de Paris). Ce travail a montré que le traçage isotopique en C et O des minéraux de discontinuités, couplé aux études pétrographiques, minéralogiques, et thermiques obtenues sur les inclusions fluides, sur les matières organiques et sur les argiles, constitue un outil puissant pour reconstituer les conditions paléo-hydrogéologiques, quel que soit le contexte.
Fichier principal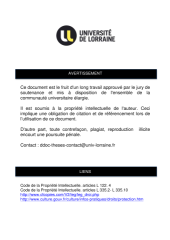 SCD_T_2001_0233_BUSCHAERT.pdf (12.14 Mo)
Télécharger le fichier
Origin : Files produced by the author(s)