Mise au point et validation sur sites contaminés (ETM-HAP) d'un test de biosurveillance en microcosme : croissance et bioaccumulation par gastéropode terrestre Helix Aspersa Aspersa
Ecotoxicology is important for the evaluation of ecosystem quality : she studies interactions between chemical and environment and includes several endpoints like establishment of the bioindicator Helix aspersa aspersa. In order to tramspose on field the snail growing test (AFNOR), microcosms previously used were improved to allow the transfer of snails on adverse sites. In the same time, different food combinations were tested to detemine the best compromise between growth and metal bioaccumulation : the combination clover-snail feed was chosen. Several experiments of active biomonitoring were realised on different sites in order to test the efficacy of this new transfer protocol on microcosms: growing rates were significant and accumulation of metals occured Moreover, Helix aspersa aspersa seerns to present interesting capacities for PAH bioindication. In addition to these field experiments, an ecotoxicological study on copper was performed. Results obtained food but don't allow us to conclude on the relationship between metal levels in snail viscera, bacateriological profile evolution and methality. At cellular level, copper intake occurs in degestive cells of the digestive gland then it is transported by some blood cells (phagocytosis and sulphur formation), before excretion by apica vacuoles of nephrocytes.
L'écotoxicologie revêt une importance primordiale pour l'évaluation de la qualité des écosystèmes : elle s'intéresse particulièrement aux interactions entre les produits chimiques présents dans l'environnement et le biotope et englobe plusieurs domaines dont la mise au point de bioindicateur tel que Helix aspersa aspera. Afin de transposer sur le terrain le test AFNOR portant sur la croissance des escargots, le dispositif expérimental préexistant a été amélioré en vue de permettre l'implantation d'escargots sur les terrains les plus hostiles. Dans le même temps, différentes combinaisons de nourriture ont été testées afin de déterminer celle offrant le meilleur compromis entre la croissance et l'accumulation d'éléments métalliques. La combinaison suivante a été retenue : trèfle autochtone ou préalablement semé, associé à de la farine Hélixal. Plusieurs expériences de biosurveillance active ont alors été réalisées sur différents sites afin de tester l'efficacité du nouveau protocole de transfert en microcosmes : les taux de croissance sont significatifs et l'accumulation des métaux lourds à partir de leur environnement est effective (relations linéaires entre les concentrations en éléments métalliques dans le sol et celles retrouvées dans les viscères des escargots) De plus, Helix aspersa aspersa semble aussi posséder des dispositions intéressantes pour la bioindication des HAPs. En complément à ces expérimentations sur le terrain,une étude écotoxicologique appliquée a été réalisée concernant le cuivrée. Les résultats obtenus dans différents élevages hélicicoles français soulignent l'importance de limiter la supplémentation de la nourriture aux éléments métalliques, dont le cuivre, mais ne nous ont pas permis de conclure quant à une éventuelle relation entre les concentrations en éléments métalliques dans les viscères des escargots, l'évolution des profils bactériologique est leur mortalité. Au niveau cellulaire, le cuivre pénètre pour partie au niveau des cellules digestives de la glande digestive, puis est transporté par certaines cellules sanguines avec phagocytose et vraisemblablement formation de sulfures, avant excrétion au niveau des vacuoles apicales des néphrocytes.
Fichier principal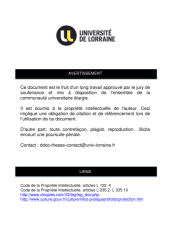 Viard_LaRocca.Benedicte.SMZ0435.pdf (12.84 Mo)
Télécharger le fichier
Origin : Files produced by the author(s)