Thierry Maulnier: from the revolutionary young right to established order ?
Thierry Maulnier: de la Jeune Droite révolutionnaire à l'ordre établi ?
From the Action Française Movement, which he joins in the late 20's, to the AcadémieFrançaise, who elect him to a seat with them, and so consecrate his much honored literary career, Thierry Maulnier seems to have navigated between two extreme goals ; namely, promoting an "aristocratic revolution", siding with a "Young Right Movement" inspired by Maurras, and, later on, achieving some intellectual status within the Establishment. Then there comes the year of "Liberation" (of France from the nazi grip), when he is said to have joined in the System, thus betraying his former friends ; however, this well-spread interpretation is as faulty as the label "dissident from the Action Française", that has stuck to him to this day. In the 1930's, Thierry Maulnier explores the economic and social fields to situate himself and to find an alternative for the liberal/capitalistic democracy he cannot stand. The years of Vichy Government, and the German ocupation of France,brought a deep change in his vision of the world, a change that took him away from Maurras ; from then on, he continues his lonely course, far from the Young Right members, though he may meet some of their names in the reviews in which he is a contributor ; he gets involved in other forms of artistic and intellectual expression, such as drama ; yet, he will never reject or denounce his past. In spite of some genuine changes in his political postures, this singular intellectual route displays many persistent ideas, recognizable in his fights against communism, totalitarianism, decolonizing, in his defense of Western civilization that is sinking, according to him. Maulnier's six decades of intellectual life are like a window open on the XXth century history, and on the political trends he is acquainted with.
De l'Action française, qu'il rejoint à la fin des années vingt, à l'Académie française, où il est élu en signe de consécration ultime pour une carrière littéraire remplie d'honneurs, le parcours intellectuel de Thierry Maulnier semble s'inscrire entre ces deux extrémités que sont le combat politique pour l'avènement d'une « révolution aristocratique », au côté d'une Jeune Droite d'inspiration maurrassienne, et l'accès à une certaine notabilité intellectuelle au sein d'institutions garantes de l'ordre établi. Entre les deux se situe le moment de la Libération, qui serait celui où Maulnier se rallie au système, après avoir trahi ses anciens camarades. Cette interprétation commune est toutefois aussi trompeuse que l?étiquette de dissident de l'Action française qui lui a été attribuée jusqu'à présent. Dans les années trente, Thierry Maulnier cherche sa propre voie dans les domaines économiques et sociaux pour trouver une alternative à une démocratie libérale et capitaliste qu'il abhorre, en vagabondant d'un mouvement à un autre, sans jamais quitter les parages de l'Action française. Mais la période de Vichy et l'Occupation allemande entraînent un bouleversement profond dans sa conception du monde, qui le conduit à s'éloigner de Maurras à la Libération. Poursuivant désormais son itinéraire en solitaire, loin d'une Jeune Droite dont il lui arrive de croiser encore quelquefois les animateurs dans certaines revues auxquelles il collabore, il s'engage dans de nouvelles formes d'expression artistiques et intellectuelles, comme le théâtre, sans renier son passé. Mais, au-delà des évolutions politiques réelles, ce parcours intellectuel singulier se caractérise par de nombreuses persistances, visibles dans les combats qu'il mène contre le communisme et le totalitarisme, la décolonisation, et pour la défense d'une civilisation occidentale, dont la crise s'est à ses yeux aggravée. Les soixante années de vie intellectuelle de Maulnier sont une fenêtre ouverte sur l'histoire du vingtième siècle et les mouvements politiques qu'il fréquente.
Fichier principal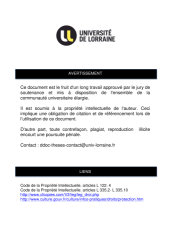 DDOC_T_2013_0301_MOREL.pdf (12.76 Mo)
Télécharger le fichier
Origin : Files produced by the author(s)