La dynamique de la valeur : contribution à la création de valeur en P.M.E. par la notion de désordre
There are many paradoxical situations in companies where the consented efforts to manage situations of disorder are not only not effective to solve the arising problems, but they also generate abnormal operations. To sum up, one can say that the research of value leads to disorder. Thus, the object of our research deals with the creation of value, starting from disorder in companies. The originality of the research consists in enriching the thoughts resulting from manament with those coming from the sciences for engineers, via an approach of transversal disciplines around the set of themes of value. In this context, the first part defines the framework of the research by developing the existing links between value and disorder, starting from a ground of experimentation centered on SME. The dynamic approach of the selected value leads to a different vision based on the constructivist epistemologies. Value is considered as a compromise between order and disorder. After building a model of observation of management practices of creation of value from a quality step, we tried, in the second part, to show the inadequacy of these current professional practices facing the complexity of disorder. An investigation carried out with the SME directors allowed to highlight the fact that the practices listed in situations of disorder regularly generate paradoxical situations. Finally, the last part aims at setting up the dynamic approach of value, starting from an engineeric research. Taking the noticed limits into account, the conceptual and methodological framework of intervention proposed in companies is based on the notion of Organizational Engineery. This proposal leads to redefine the part of the speaker and the tools to use in order to cope with the complex situations of disorder. The methodological contribution of sciences for engineers allowed to validate the step of Organizational Engineery, creator of value from disorder, via a clinical case.
Nombreuses sont les situations paradoxales en entreprise où les efforts consentis pour gérer les situations de désordre, non seulement ne sont pas efficaces par rapport aux problèmes posés, mais engendrent des dysfonctionnements. En résumé, on peut avancer que la recherche de valeur engendre du désordre. L'objet de notre recherche portera donc sur la création de valeur à partir du désordre en entreprise. L'originalité de la recherche consiste, par l'intermédiaire d'une approche transdisciplinaire autour de la thématique de la valeur, à enrichir les réflexions issues de la gestion par celles provenant des sciences pour l'ingénieur. Dans ce contexte, la première partie définit la cadre de la recherche en développant les liens existants entre valeur et désordre à partir d'un terrain d'expérimentation axé sur la P.M.E. L'approche dynamique de la valeur retenue renvoie à un regard différent basé sur les épistémologies constructivistes. La valeur est envisagée comme un compromis entre ordre et désordre. Après avoir construit un modèle d'observation des partiques managériales de création de valeur à partir des démarches qualité, nous avons cherché, dans une deuxième partie, à montrer l'inadéquation de ces pratiques professionnelles actuelles face à la complexité du désordre. Une enquête réalisée auprès de responsables de P.M.E., a permis de mettre en évidence que les pratiques recensées dans les situations de désordre engendrent régulièrement des situations paradoxales. Enfin, la dernière partie a pour objectif de rendre actionnable, à partir d'une recherche ingénierique, l'approche dynamique de la valeur. En tenant compte des limites constatées, le cadre conseptuel et méthodologique d'intervention proposé en entreprise s'appuie sur la notion d'ingénierie organisationnelle. cette proposition amène à redéfinir le rôle de l'intervenant et les outils à utiliser pour faire face aux situations complexes de désordre. L'apport méthodologique des sciences pour l'ingénieur a permis de valider la démarche d'ingénierie organisationnelle, créatrice de valeur à partir du désordre, par l'intermédiaire d'un cas clinique.
Fichier principal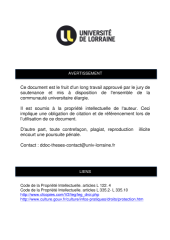 INPL_T_1999_SCHMITT_C.pdf (12.13 Mo)
Télécharger le fichier
Origin : Files produced by the author(s)