Synthèse de monomères et copolymères méthacryliques à fonctions complexantes : suivi de Synthèse de monomères et copolymères méthacryliques silanes utilisés dans les peintures antifouling
This work is divided in two different parts : The first part is the synthesis of new molecules used in chelating resins in order to improve their performance, their selectivity and reduce their producing cost. Thus, methacrylic monomers and copolymers containing carboxylic acids and thiol functions have been produced from halogenated or hydroxylated counterparts. Yield obtained are variables. The second part concerns antifouling paints. Those containing tributyltin have to be forbidden since 2008. Thus, new molecules, as hydrolizable as tributyltin ones, have to be found. Silylated methacrylic monomers and copolymers have been synthesised by conventional or new procedures from potassium methacrylate, methacrylic acid and methacrylic anhydride with different kinds of silanes or methoxytrialkylsilanes and a large amount of catalysts.
Le travail présenté s'articule autour de 2 parties distinctes : La première concerne la recherche de nouvelles molécules entrant dans la composition de résines complexantes pour les rendre plus performantes, plus sélectives et moins onéreuses. Cela nous a conduit à la synthèse de monomères et copolymères méthacryliques comportant principalement des fonctions acides carboxyliques et thiols. Ceux-ci ont été élaborés à partir de monomères ou de copolymères méthacryliques contenant des fonctions halogénées ou hydroxylées avec des rendements variable. La seconde s'intéresse aux peintures marines. L'utilisation des peintures antifouling à base de tributylétain devant être interdite d'ici 2008, il est nécessaire de leur trouver un substituant aussi efficace en terme d'hydrolyse mais moins toxique pour le milieu marin. C'est dans ce but que des monomères et copolymères méthacryliques silanés ont été synthétisés par des voies classiques ou inédites. Ainsi, le méthacrylate de potassium, l'acide méthacrylique et l'anhydride méthacrylique ont été utilisés avec des silanes ou des méthoxytrialkylsilanes dans diverses conditions opératoires et avec un large éventail de catalyseurs.
Fichier principal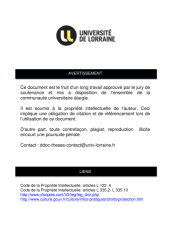 Mancardi.David.SMZ0505.pdf (7.13 Mo)
Télécharger le fichier
Origin : Files produced by the author(s)