Comparative study between the World Trade Organization (WTO) and the Organization for the Harmonization of Business Law in Africa (OHADA)
Rapports organisation mondiale du commerce/Organisation pour l'harmonisation en Afrique du droit des affaires. Contribution à l'étude du processus de mondialisation des rapports économiques et commerciaux.
The process of globalization has led to the emergence of new players' international organizations- giving thus a new configuration to the international relations. Globalization can be defined as a multidimensional process characterized by the interdependence in all the areas and leading to an increasing competition. It is the manifestation of international liberalism which is currently the dominant ideology. This process implies the existence of a world without borders which ends the myth of the territory as the main framework of international relations. State is no longer considered as the major player on its own territory. Rather, new policies that include non state players are needed. The WTO and the OHADA are two main players in this process at different levels: the first at the international level, the second at the regional level. Are these two organizations contradictory or complementary? In other words, do they interact? Is the principle of self-assertion of the superiority of traditional international or universal law applicable to them? Does the competition that may occur between them lead to a peaceful or a conflicting coexistence? These are the main issues that the present study will try to tackle.
Le processus de mondialisation a modifié la configuration des relations internationales avec l'apparition de plusieurs organisations qui sont des moteurs de cette évolution. La mondialisation peut être définie comme un processus multidimensionnel caractérisé par une interdépendance dans tous les domaines et conduisant à une concurrence croissante. Elle est ainsi la manifestation du libéralisme international qui constitue à l'heure actuelle l'idéologie dominante. Elle véhicule un "sans frontièrisme" mettant fin au mythe du territoire en tant que cadre principal des relations internationales. Elle défie ainsi l'État en même temps qu'elle utilise son cadre territorial comme un moyen d'expression. L'OMC et l'OHADA sont les deux acteurs principaux de ce processus à des échelons différents : la première au niveau international, la seconde au niveau régional. Ces deux organisations sont-elles alors contradictoires ou bien complémentaires? En d'autres termes, pouvons-nous observer des interactions entre elles? Le principe de l'auto-affirmation de la supériorité traditionnelle du droit international ou universel leur est-il applicable? La concurrence pouvant intervenir entre elles conduit-elle à une cohabitation pacifique ou conflictuelle? Telles sont les questions auxquelles nous allons tenter de répondre.
Fichier principal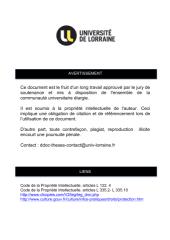 2009NAN20013.pdf (3.01 Mo)
Télécharger le fichier
Origin : Files produced by the author(s)