Research on the Legal Category of Constitution and its Adaptation to the Current Evolution of Law
Recherches sur la catégorie juridique de Constitution et son adaptation aux mutations du droit contemporain.
Recent changes in contemporary law led legal scholars to consider the possibility of a european or international constitution. Thinking on this question seemed to be deadlocked by the ambiguity of the word "constitution". Indeed, it can refer both to a dogmatic category within a legal system and to a theoretical concept used to understand and compare different systems. This separation, unavoidable from a positivist perspective, leads to scrutinise the adaptation of the constitution on two distinct levels. The study of the constitution as a dogmatic category faces epistemological obstacles, demanding a look back at jurisprudence. Its definition therefore becomes a particular speech act's set of extralinguistic success conditions, defined by a constitutive rule. This approach can contribute to the knowledge of the French dogmatic constitution category without setting a full definition but it can also relativise its role in the current adaptation of the constitution category. The study of the constitution as a theoretical notion involves a critical examination of existing work and the rejection of the traditional dichotomy between material and formal definitions. It can in fine be conceived as a supreme norm of a particular type which until know exists only at the state level but could conceptually be extended to a multistate level.
Face aux mutations du droit contemporain, la doctrine s'est interrogée sur l'apparition éventuelle d'une constitution européenne ou internationale. Cette réflexion a conduit à un blocage qui paraît trouver sa source dans l'ambiguïté du terme « constitution ». Celui-ci peut en effet signifier aussi bien une catégorie dogmatique propre à un système juridique et intégrée par ses acteurs qu'une catégorie théorique participant à la compréhension et à la comparaison des systèmes juridiques. Le respect de cette séparation indispensable dans une perspective positiviste conduit à aborder la question de l'adaptation de la constitution sur deux plans distincts et séparés. L'étude de la constitution au sens dogmatique se heurte à des obstacles épistémologiques qui imposent de recourir à la théorie générale. Sa définition apparaît alors comme l'ensemble des conditions de réussite extra-langagière d'un type d'acte de langage particulier fixé par une règle constitutive. Cette approche peut contribuer à améliorer la connaissance de la catégorie dogmatique française de constitution sans pour autant arrêter une définition complète mais également à relativiser la place qu'elle occupe dans l'adaptation actuelle de la catégorie de constitution. L'étude de la constitution au sens théorique passe, quant à elle, par l'examen critique des travaux existants et la remise en cause de la traditionnelle dichotomie entre définitions matérielles et formelles. Elle peut finalement être décrite comme une norme suprême d'un type particulier qui n'existe actuellement qu'au niveau étatique mais dont il est possible d'envisager l'émergence au niveau interétatique sans se heurter à aucun obstacle conceptuel.
Fichier principal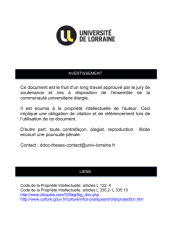 2009NAN20009.pdf (4.87 Mo)
Télécharger le fichier
Origin : Files produced by the author(s)