Système de preuve modulo récurrence
Methods and systems for proof by induction are very different. The most general methods are difficult to automatize. Automated systems are sometimes difficult to justify.This thesis establishes at proof level a link between noetherian induction and induction bt rewriting, which will enable systems to cooperate in a skeptical mode in which the proof is verified thanks to the Curry-Howard isomorphism.The formalism of deduction modulo is extended to conditional congruences which are evaluated with respect to a context. Moreover,the induction ordering, which cannot be compatible with the congruence, is made protective, which means that it blocks the application of the congruence.Proof by induction by rewriting is seen as the result of the internalization of induction hypotheses in deduction modulo, which enables to explain some of the behavior of the induction by rewriting method.
Les méthodes et systèmes de preuve par récurrence sont très diverses. Les méthodes les plus générales sont difficiles à automatiser. Les systèmes automatiques parfois difficiles à justifier.Cette thèse établit au niveau des preuves un lien entre récurrence noethérienne et récurrence par réécriture, ce qui permettra la coopération de systèmes dans un mode sceptique où la preuve est vérifiée grâce à l'isomorphisme de Curry-Howard. Le formalisme de la déduction modulo est étendu au traitement de congruences conditionnelles dont l'évaluation tient compte du contexte. De plus, l'ordre de récurrence qui ne peut pas être compatible avec la congruence, est rendu protecteur, c'est-à-dire qu'il bloque l'application de la congruence. La preuve par récurrence par réécriture est vue comme le résultat de l'internalisation en déduction modulo des hypothèses de récurrence, ce qui permet d'expliquer certains comportements de la méthode de récurrence par réécriture.
Fichier principal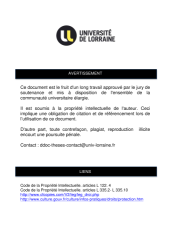 SCD_T_2002_0240_DEPLAGNE.pdf (2.7 Mo)
Télécharger le fichier
Origin : Files produced by the author(s)