Around "tournantes" : mediatic processing ans stakes of group'rape in urban background
Traitements et interventions médiatiques autour des "tournantes" en France : du fait divers à la question de l'immigration ?
By 2000, in a context of socio-economic concerns, a news so unexpected suddenly rises in the best seats in the galleries media. Commonly called "tournante" by most media release of the Hexagon, the information reveals the existence of collective rape in the mid teens of French neighborhoods. What lead to these ?tournantes?? Some criminalize the adverse effect of the pornography industry but also the dissemination of ICTs - while recognizing that the prohibition of such films on television would be a false solution. The weight of the patriarchal culture in families of immigrant origin has also been put forward by others, and so was it for the influence of fundamentalist Islam. All these arguments have been deconstructed as well scientifically by researchers that public opinion through a vox populi that no longer supports the stereotypes attributed to the ?suburbs?/cities. But the ways to contest have been different, discussions and actions on the passionate and violent themes as social actors to whom the word was circulated in the press. Aspects such as the media and the plurality of speech segments have been identified through work areas as diverse knowledge of each other: Information and Communication Sciences and disciplines audras humanities (sociology, socio-demography, psychology, anthropology...) but also political science, science of medicine, law or criminology.
Dès 2000, dans un contexte de préoccupations socio-économiques, un fait divers aussi imprévu que soudain se hisse dans les meilleures places des tribunes médiatiques. Communément dénommée « tournante » par la plupart des médias de presse de l'Hexagone, l'information révèle l'existence de viols commis en réunion dans le milieu des adolescents des quartiers populaires français. Comment expliquer ces tournantes ? Certains incriminent l'effet néfaste de l'industrie pornographique mais aussi des TIC les diffusant ? tout en reconnaissant que l'interdiction de tels films à la télévision serait une fausse solution. Le poids de la culture patriarcale dans les familles issues de l'immigration a également été mis en avant, ainsi que l'influence d'un Islam fondamentaliste. Tous ces arguments ont été déconstruits tant bien de manière scientifique, par des chercheurs que par l'opinion publique, via une vox populi qui ne supporte plus les clichés attribués aux « banlieues/cités ». Mais les manières de protester ont été différentes, les discussions et interventions sur le thème, passionnées et véhémentes selon les acteurs sociaux à qui la parole a été distribuée dans la presse. Les aspects tels que la médiatisation et la pluralité des discours dans les débats ont été mis en évidence grâce à des travaux de champs de connaissance aussi divers les uns que les autres : les Sciences de l'Information et de la Communication et d'autres disciplines de sciences humaines (sociologie, socio-démographie, psychologie, anthropologie) mais aussi les sciences politiques, les sciences de la médecine, le Droit ou encore la criminologie.
Fichier principal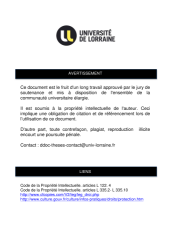 Saadaoui.Linda.LMZ1004.pdf (3.4 Mo)
Télécharger le fichier
UPVM_T_2010_SAADAOUI_Linda_Annexes.pdf (6.42 Mo)
Télécharger le fichier
Origin : Files produced by the author(s)