Les zones d'activités : des espaces pionniers à la périphérie des agglomérations, le cas lorrain
To which extent are the business parks, created in the periphery of built-up areas, secretions of the city ? The first book is an overview of business parks based on landscapes and a statistical inventory. It characterises the morphology, the spatial distribution and the nature of each business park. The second book is highlighting the relations linking parks and cities. A large majority of the zones are of public initiative ; they constitute real estates that are put in competition by the economic players. Several parks are meant to release some of the pressure on the urban centers. Other are used by national or international companies to reach new markets. These general processes are not particular to Lorraine. The last book is stressing two regional specificities : the military and industrial past of Lorraine that did leave the authorities with wastelands to be recycling. The location of the region on a major european axis and near national borders is grating Lorraine a new economic appeal.
En quoi les zones d'activités (Z.A.) aménagées depuis 50 ans, à la périphérie des agglomérations sont-elles des sécrétions de la ville ? Le premier livre dresse un état général actuel des zones à partir de paysages et d'un recensement statistique. Il caractérise leur organisation spatiale, leur répartition et les différencie. Le second étudie les liens génétiques et fonctionnels entre les zones et la ville. La plupart des zones sont d'initiative publique. Les acteurs économiques mettent en concurrence ces offres foncières. De nombreuses zones sont des espaces de desserrement urbain pour les activités. D'autres sont occupées par des groupes en quête de nouveaux marchés. Ces processus ne sont pas particuliers à la Lorraine. Le dernier souligne deux spécificités régionales. Le passé militaire et industriel de la Lorraine a légué aux collectivités des friches recyclables en Z.A.. La situation de la région sur un grand axe européen et les frontières lui confèrent une attractivité nouvelle.
Fichier principal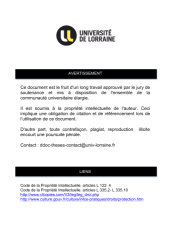 2004NAN21028.pdf (40.57 Mo)
Télécharger le fichier
Origin : Files produced by the author(s)