La problèmatique du genre dans les romans d'Ayi Kwei Armah
Trough the analysis of male and female characters, this work examines gender discourse in Ayi Kwei Armah's novels. On the one hand, it compares the traditional and contemporary worlds of these novels and on the other hand it examines how the author uses African culture and history in the construction of his male and female characters. Trying to identify the main ideas of his novels, it underlines through an interdisciplinary approach how he perceives otherness in relationship between men and women in Africa. His perception of gender roles reveals the impact of European colonisation on the balance of social and political power between men and women. However, contrary to the narratives of most of African male writers, he depicts a matrilineal society in which women have influence in public matters. It is shown from his use of myths, oral narratives and metaphors of fertillity that Armah tries to enhance women's roles in modern Africa.
A travers l'analyse des rôles des personnages masculins et féminins, ce travail tente de dégager le discours du genre que tiennent les narrateurs des romans du ghanéen Ayi Kwei Armah. D'une part, il fait un parallèle entre les mondes traditionnels et contemporains et, d'autre part, il met en évidence la manière dont l'auteur intègre au plan narratologique l'histoire et la culture africaine dans la construction de ses personnages. Il envisage la construction du genre dans un double sens : le genre comme un pouvoir normatif et le genre comme une force qui s'inscrit dans la transgression de la norme et de l'altérité imposée. Armah montre le rôle central de la colonisation occidentale dans le déséquilibre des pouvoirs sociaux et politiques entre hommes et femmes. Il ressort cependant de cette analyse qu'il inscrit les rapports sociaux entre les sexes, non pas dans une dynamique conflictuelle, mais plutôt dans une synergie qui vise à redonner une vitalité à la société africaine.
Fichier principal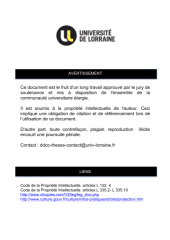 2006NAN21025.pdf (1.55 Mo)
Télécharger le fichier
Origin : Files produced by the author(s)