Légitimité et recherche d'adhésion chez le manager médiateur en contexte de réorganisation : analyse des implications de la redéfinition du rôle de l'encadrement de premier niveau à France Télécom
The purpose of this research is to study the impact of redefining the role of first-line managers on their legitimacy, as well as the eventual implications on the management of the team. The literature underlines some evolution of the role, particularly as a consequence of changes in work organization and of the evolution of Human resources. Empirical data collected first through an exploratory study then through a more thorough study, show that the legitimacy of "1st HR managers" with France Telecom has been undermined. This is mainly explained by the fact that their new role no longer requires them to have deep knowledge of the job of the team they manage. It is this rational-legal dimension of legitimacy (in the sense of the Weber theory) that has been most reduced through the redifinition on the role. This reduction of the legitimacy is coexistent with the limited efficiency of managers when seeking to gain the support of the staff to the firm's orientations. This mainly leads to some fatalism in response to the evolutions required by the managers. The main contributions of this research are theoretical. The theoretical frame transfers and adapts Weber's legitimacy sources to first-line managers. The results of this study contribute to the literature on first-line management and confirm the finding of the sociology of managerial action.
Cette recherche a pour objectif d'étudier l'incidence de la redéfinition du rôle de l'encadrement de premier niveau sur sa légitimité, ainsi que les implications possibles sur le management de léquipe. Une évolution de rôle est notée dans la littérature, notamment sous l'influence des changements dans l'organisation du travail et de la transformation de la Fonction Ressources Humaines dans le sens de son partage. Les données empiriques collectées dans le cadre d'une étude exploratoire puis d'une étude approfondie mettent en évidence une déstabilisation de la légitimité des "managers 1er RH" à France Télécom, principalement due au fait que leur nouveau rôle ne nécessite plus de leur part de posséder des connaissances approfondies dans le métier de l'équipe qu'ils encadrent. C'est cette composante rationnelle-légale de la légitimité wébérienne qui est la plus réduite suite à la redéfinition de rôle. Une cooccurrence apparaît entre cette réduction de légitimité et le peu d'efficacité des managers dans leur recherche de l'adhésion des salariés aux nouvelles orientations de l'entreprise, cette dernière aboutissant majoritairement à un fatalisme face aux évolutions demandées par les dirigeants. Deux pistes complémentaires d'explication à cette cooccurrence sont avancées. Les principaux apports de la recherche se situent sur le plan théorique, puisque le cadre théorique développé a permis de transférer et d'adapter les sources wébériennes de légitimité aux managers de premier niveau. Les résultats viennent également prolonger les travaux sur l'encadrement de premier niveau et confirmer les apports de la sociologie de l'action managériale.
Fichier principal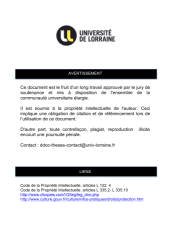 2003NAN22001.pdf (26.76 Mo)
Télécharger le fichier
Origin : Files produced by the author(s)