Motivations et efficacité des offres publiques d'achat et d'échange en France de 1970 à 1990
The Thesis is devoted to the study of takesters' motives and effectiveness in France between 1970 and 1990, and, is at the meeting point of the research fields of strategy and finance. It contains three main parts : 1) The state of the art on the subject wich stresses the weakness of french research. 2) The presentation of processes and methodological choices. The research comes within the scope of an empirical, inductive and exploratory process consistent with a strategic decision-making problematics. 3) The empirical study results are divided in two main parts : motives and effectiveness. The analysis of motives distinguishes explicit motives (232 takeovers) and implicit motives (140 companies), it underscores the motives consistency and the instrumental fonction of takeovers for strategy. The analysis of effectiveness concludes that takeovers lack of effectiveness can be explained by integration process problems.
La thèse est consacrée à l'étude des motifs et de l'efficacité des OPA en France de 1970 à 1990 et se situe à l'interface de deux domaines : la stratégie et la finance. Elle comprend trois parties : 1) La recension des connaissances sur le sujet dont il ressort une faiblesse de la recherche française. 2) La présentation de la démarche et des choix méthodologiques. L'ensemble de la recherche s'inscrit dans le cadre d'un processus inducatif et exploratoire cohérent avec une problématique complexe de la décision stratégique d'offre publique. 3) Les résultats de la recherche sont scindés en deux parties : les motivations et l'efficacité des OPA. L'analyse des motivations (pré-OPA) distingue les motivations explicites (232 opérations analysées) et implicites (140 entreprises analysées) et met en évidence la cohérence des motivations ainsi que le rôle instrumental des OPA pour la mise en oeuvre de la stratégie des entreprises. L'analyse de l'efficacité(post-OPA) conclut à une absence d'efficacité des OPA pour des raisons essentiellement liées au processus d'intégration.
Fichier principal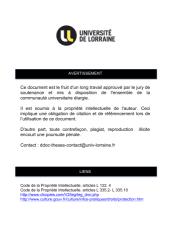 1994NAN22001_1.pdf (18.18 Mo)
Télécharger le fichier

1994NAN22001_2.pdf (6.64 Mo)
Télécharger le fichier