Effet des déficits hydriques et des forts éclairements sur la photosynthèse de jeunes semis de chânes en conditions contrôlées et de chênes adultes en conditions naturelles
The aims of this work were to study the effects of leaf water status on photosynthesis, the effects of high light on the photosynthetic apparatus in relation to leaf water status and the real effects of summer drought on tree photosynthesis. Results obtained on oaks confirm that the photosynthetic appartus is highly resistant to leaf dehydratino and to water deprivation. During drought, net CO2 assimilation was mainly limited by stomatal closure. Persistent photoinhibition do not occur as long as leaves were not submit to higher light levels than those received during growth. Different mechanisms contribute to this tolerance to high light stres. Capacity of leaves to modulate photosystem II activity in response to irradiance and/or electron requirement variations is the main important one. But, during drought, photorespiration limits the decrease ine photosystem II activity.
Les objectifs de ce travail étaient de caractériser l'effet de l'état hydrique foliaire sur la photosynthèse, d'étudier l'impact des forts éclairements sur l'appareil photosynthétique en liaison avec l'état hydrique des feuilles et d'évaluer l'influence réelle d'un dessèchement du sol sur le fonctionnement de l'appareil photosynthétique d'arbres adultes durant la période estivale. Les résultats obtenus sur les chênes confirment la forte tolérance de l'appareil photosynthétique à la déshydratation des tissus foliaires et à la diminution des réserves hydriques du sol. La limitation de l'assimilation nette de CO2 en réponse à une diminution de la disponibilité en eau du sol résulte essentiellement de la fermeture des stomates. Une photoinhibition durable de l'appareil photosynthétique n'est jamais observée, tant que les feuilles ne sont pas soumises à des éclairements supérieurs à ceux qu'elles ont connus durant l'éclairement. La capacité des feuilles à moduler l'activité photochimique du PS II en réponse aux variations d'éclairement et/ou des besoins en électrons apparaît comme le mécanisme quantitativement le plus important. Mais, en situation de sécheresse, la photorespiration permet de limiter la réduction de l'activité du photosystème II.
Fichier principal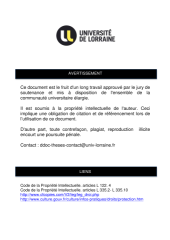 SCD_T_1993_0010_EPRON.pdf (4.81 Mo)
Télécharger le fichier
Origin : Files produced by the author(s)