De la réflexivité à la prismaticité : dispositifs, agencements, limites
These works aim at proposing a new approach of a phenomenon named until today reflexivity. The research route consists in revisiting this notion under various angles. First of all, work on the possibility of the reflexive phenomenon, on its theoretical bases and its applications in various arts: literature, cinema, theater ... This first approach showed the necessary conditions for the existence of a reflexive shape, conditions which we find with difficulty in television. It was also necessary to return on what implied this notion of reflexivity: Speech of television on itself, construction of a criticism of television. We showed that the criticism of television has never existed, taking rather the shape of a chronicle, and than television was not a speaking subject, but an hypercomplex object composed by multiple voices. For these reasons (and others) we were brought to introduce a new abstract and analytical tool : the prism. this new tool shows itself more powerful and more adequate to report a more and more visible phenomenon: development of broadcasts taking television for subject. The prism is above all a practice, a speech act, transposable in any type of broadcast, which allows to go farther to the analysis of these broadcasts.
Ces travaux ont pour but de proposer une nouvelle approche d'un phénomène nommé jusqu'à aujourd'hui la réflexivité. Le parcours de recherche consiste à revisiter cette notion sous différents angles. Tout d'abord, travailler sur la possibilité même du phénomène réflexif, sur ses bases théoriques et ses applications dans différents arts : littérature, cinéma, théâtre... Cette première approche a mis en exergue les conditions nécessaires à l'existence d'une forme réflexives, conditions que l'on retrouve difficilement à la télévision. Il nous a aussi fallu revenir sur ce qu'impliquait cette notion de réflexivité: le discours de la télévision sur elle-même, la construction d'une critique de télévision. Nous avons montré que la critique de télévision n'a jamais existé, prenant plutôt la forme d'une chronique, et que la télévision n'était pas un sujet parlant, mais un objet hypercomplexe composé de voix multiples. Pour ces raisons (et d'autres) nous avons été amené à introduire un nouvel outil conceptuel et analytique: le prisme. Ce nouvel outil se révèle plus puissant et plus adéquat pour rendre compte d'un phénomène de plus en plus visible : la multiplication des émissions prenant pour thème la télévision. Le prisme est avant tout une pratique, un acte de discours, transposable à tout type d'émission, qui permet d'aller plus loin dans l'analyse de ces émissions.
Fichier principal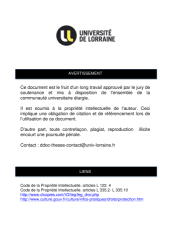 Aliouane.Nabil.LMZ0411.pdf (15.69 Mo)
Télécharger le fichier
Origin : Files produced by the author(s)