Gerard Manley Hopkins's poetic compounds (Poems 1876-1889)
Les composés poétiques dans l'écriture de Gérard Manley Hopkins (Poèmes 1876-1889) :
Gerard Manley Hopkins's poetic compounds and hyphenations stand out as significant features of his original style. In this dissertation, they are collected in a comprehensive corpus, sorted by categories and types and commented upon from different angles (lexicogenetic, syntactic and notional) in an attempt to bring out their stylistic and literary function. They do not illustrate a single theme but they represent word cruces that, on the one hand, raise poetic language to the level of verbal artefact and, on the other, unveil a unique literary imagination.
Les composés poétiques et les structures synthétiques à traits d'union de Gerard Manley Hopkins ont largement contribué à la spécificité de son style original. Ils sont ici répertoriés dans un corpus exhaustif, classés par catégories et types et commentés sous divers aspects (lexicogénétiques, syntaxiques et thématiques) pour en faire ressortir leurs fonctions stylistique et littéraire. Ils n'illustrent pas un nu?d thématique en particulier, mais sont à l'origine d'une multiplicité d'effets qui tendent à resserrer le langage poétique dans un filet formel, et d'enjeux sémantiques qui dévoilent une imagination littéraire unique.
Fichier principal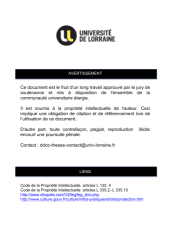 2001NAN21014_1.pdf (17.4 Mo)
Télécharger le fichier
Origin : Files produced by the author(s)