Facing death in late Elizabethan and Jacobean tragedy : The motif of the man contemplating a skull in " The Atheist Tragedy ", " The Revenger's Tragedy ", " Hamlet ", " The Duchess of Malfi " and " King Lear "
La mort en face : confrontations avec le crâne dans cinq tragédies anglaises de la renaissance tardive "La Tragédie de l'athée", "La Tragédie du vengeur", "Hamlet", "La Duchesse d'Amalfi" et "Le Roi Lear"
Between 1600 and 1620, Elizabethan and Jabobean tragedy often focuses on a macabre stereotype - characters are shown staring at the face of Death. This stereotype is largely borrowed from the cultural setting of Shakespeare's day, which was dominated by the visual display of death, as defined in the memento mori conventions. Both the text and the staging of the tragedies of that age are concerned with staring at the Face of Death. The word " skull " and the stage property that corresponds to it cannot merely be considered as emblems of mortality, because they are both linked with the achetypes of Death. Indeed, these macabre signs regularly emphasize the spontaneous response to the staging of violence and death, so much so that they tend to unveil a death that refuses to be controlled by any emblematic setting or allegorical strategy. This ambivalent theatrical semiosis is studied in five tragedies : The Atheist's Tragedy, The Revenger's Tragedy, Hamlet, The Duchess of Malfi and King Lear.
Entre 1600 et 1620, le genre tragique élisabéthain a souvent recours à un emblème de memento mori :la confrontation de l'homme avec le visage de la mort. Cet emblème appartient à l'horizon culturel de l'époque : on le retrouve dans l'iconographie élisabéthaine et dans diverses pratiques culturelles de ce temps. Mais il se rapporte également à un registre archétypique.Le mot " skull ", dans les textes dramatiques, tout comme le crâne dans les mises en scène, sont à la fois des signes scéniques de memento mori et des éléments sémiotiques instables. En amplifiant la dimension affective du spectacle, ces signes indiquent l'existence d'une mort ensauvagée, rebelle à tout encadrement allégorique. Cette dualité défait ironiquement l'image conventionnelle de l'homme face au visage de la mort. Cette sémiosis ambivalente est étudiée dans cinq tragédies : La Tragédie de l'athée, La Tragédie du vengeur, Hamlet, La duchesse d'Amalfi et Le Roi Lear.
Fichier principal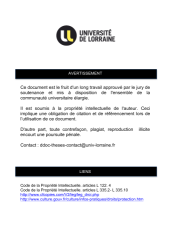 2002NAN21018_1.pdf (18.46 Mo)
Télécharger le fichier
Origin : Files produced by the author(s)