Art de Dieu Art des hommes : l'esthétique théologique face au pluriel du beau et au singulier de l'art
Human beings make an experience of the art of literature and they experience God. How shall we distinguish these two experiences and establish a connection between them? Rereading the relationship between theology and literature in the twentieth century, analyzing H. U. von Balthasar's theological aesthetics, this dissertation develops an original synthesis of both experiences within the context of the caracteristics of modern aesthetics as they have been studied by Marc-Mathieu MÉunch: the aesthetic relativism and the singular of literary art.
L'Homme fait l'expérience de l'art littéraire et il fait l'expérience de Dieu. Comment distinguer et rapprocher ces deux expériences? Partant d'une relecture des rapports entre la théologie et la littérature au vingtième siècle, analysant l'esthétique théologique de Hans Urs von Balthasar, la thèse présente une synthèse originale des deux expériences dans le cadre des données esthétiques modernes telles que Marc-Mathieu Münch les a étudiées: le relativisme esthétique et le singulier de l'art littéraire.
Fichier principal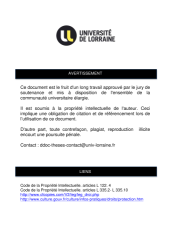 Ehret.Jean.LMZ0511.pdf (1.9 Mo)
Télécharger le fichier
Origin : Files produced by the author(s)