Contributions à la mise en oeuvre de nouvelles techniques d'interactions pour l'assistance à la personne
My work is part of a unique and complex problem of Human-Computer Interaction (HCI): to design innovative interactive systems to help users. An interactive system must offer services that are useful and usable for humans. The challenge is to take into account the variability of the users and the context. To achieve this, I have adopted a user-centered methodology that promotes teamwork. The compromise is to define a device suitable to the context and to propose an interaction language that makes the best use of the device's capabilities. My field of action covers both information capture (i.e. input interaction techniques), and information presentation (i.e. output interaction techniques). This document presents the three main axes that I studied where variability was a major factor: haptic interaction techniques (PICOB, Tactons) for visually impaired users; text input (WeSlide keyboard) for two specific audiences (children and elderly); interactions with smartglasses in the field of Health for doctors (K-Fisheye, Pointing Techniques and TEXTile). This work allowed me to open several perspectives of researches in the design of adaptive interfaces (GICA project) or the field of Health (AphaTEC, THERAPEUTIC, CROISADE, and Techno'Guide projects). In conclusion, this document presents all the activities (teaching, administrative and research ones) allowing me to have the skills to supervise research.
Mes travaux s'inscrivent dans une problématique à la fois unique et complexe de l'interaction Humain-Machine (IHM) : concevoir des systèmes interactifs innovants pour aider les utilisateurs. Un système interactif doit proposer des services utiles et utilisables pour l'humain. Le challenge est de tenir compte de la variabilité des utilisateurs et du contexte. Pour y parvenir, j'ai adopté une méthodologie centrée sur les utilisateurs en favorisant un travail en équipe. Le compromis est de définir en fonction du contexte le dispositif à utiliser, de proposer un langage d'interaction qui exploite au mieux les capacités du dispositif. Mon champ d'action est à la fois sur la saisie des informations i.e. les techniques d'interaction en entrée et la présentation des informations i.e. les techniques d'interaction en sortie. Ce mémoire présente les trois axes majeurs que j'ai pu explorer où la variabilité était un facteur prépondérant : des techniques d'interaction haptiques (PICOB, Tactons) pour des utilisateurs déficients visuels ; l'entrée de texte (clavier WeSlide) pour deux publics spécifiques (des enfants et des personnes âgées) ; l'interaction dans le domaine de la Santé à usage des médecins avec des lunettes électroniques (K-Fisheye, Techniques de pointage et TEXTile). Ces travaux m'ont permis d'ouvrir plusieurs pistes de recherches dans la conception d'interfaces adaptatives (projet GICA) ou le domaine de la Santé (projets AphaTEC, THERAPEUTIC, CROISADE et Techno'Guide). Pour conclure, ce mémoire présente les activités menées au cours de ma carrière (pédagogiques, administratives et de recherche) me permettant d'avoir les compétences pour présenter mon habilitation à diriger les recherches.
Fichier principal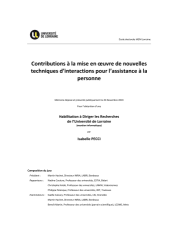 Mémoire_HDR_Pecci.pdf (2.27 Mo)
Télécharger le fichier
Origin : Files produced by the author(s)