Interfaces électrochimiques et couches minces sondées par ellipsométrie
Spectroscopic ellipsometry (SE) is a non-invasive, non-destructive, and contactless optical technique which is based on the change in the polarization state of light as it is typically reflected from a thin film sample. Often seen primarily as ex situ or of particularly helpful interest to control in situ vacuum growth processes, SE can also be promoted as an analytical tool to diagnose electrolyte-electrode interface during wet processes. I will mainly highlight in this document my researches contributions in this field: (i) the very early growth stages of bismuth telluride electrodeposition, (ii) the physico-chemical properties of oxides grown in the early regime of plasma electrolytic oxidation of magnesium alloy and (iii) the coloration mechanism and redox-switching ability monitoring of aqueous electrochemical-based sodium ion intercalation in amorphous sputter-deposited tungsten trioxide thin films.
L'ellipsométrie spectroscopique est une technique optique non invasive, non destructive et sans contact, basée sur le changement de l'état de polarisation de la lumière après réflexion par un échantillon de film mince. Ainsi souvent pratiquée ex situ ou encore utilisée in situ pour contrôler les processus de croissance sous vide, l'ellipsométrie spectroscopique peut également être promue comme un outil analytique pour diagnostiquer l'interface électrode-électrolyte lors de processus humides. Je mettrai principalement en évidence les contributions de mes recherches dans ce domaine avec les études (i) des tout premiers instants de croissance de l'électrodéposition de tellurure de bismuth Bi2Te3, (ii) des propriétés physico-chimiques des oxydes formés dans le régime conventionnel d'anodisation lors de l'oxydation électrolytique par plasma de l'alliage de magnésium AZ91D et (iii) du mécanisme de coloration et de sa dégradation lors de l'intercalation électrochimique d'ions Sodium en milieu aqueux dans des couches minces amorphes de trioxyde de tungstène WO3 déposées par pulvérisation cathodique.
Fichier principal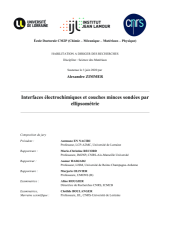 HDRAlexZimmer.pdf (41.4 Mo)
Télécharger le fichier
Origin : Files produced by the author(s)